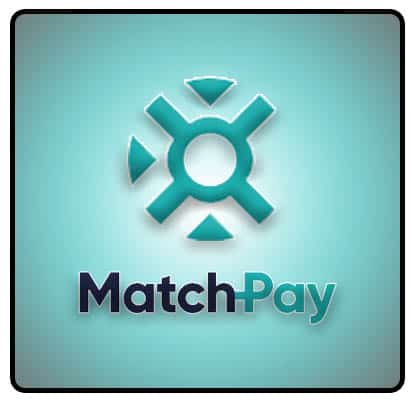 MatchPay is the newest deposit method available at the top online casinos for players aged 18 and up. Usually, one of the biggest hurdles to getting your online casino account funded is that international gambling sites do not accept some of the most common person-to-person or instant-pay platforms available to US customers. These include PayPal, Venmo, Cash App, and Zelle, among others.
But MatchPay changes that, allowing gamblers to make quick deposits using these services at 18+ MatchPay casinos. The MatchPay service is currently used exclusively by Bovada, but that's sure to change as other sites discover how useful the platform is for their millions of 18-plus members. To learn how to make fast, convenient gambling deposits with MatchPay, our brief guide will tell you all you need to know about this exciting new casino banking option.
---
★ Bovada MatchPay

Changing The Game For 18+ Online Casinos
Bonus: $3000 New Member Casino Bonus
True to form, Bovada Casino is firing on all cylinders as the first major 18-plus casino operator to support MatchPay. This is a huge development, because reputable online gambling sites have been trying to find legal, safe ways to accept PayPal deposits, Venmo deposits, and Cash App deposits for years. Bovada already supports Zelle via the Zelle-to-Bitcoin process, but the MatchPay Zelle option is arguably even better and faster.
Bovada Casino offers nearly 250 random number generation (RNG) casino games, which are regularly audited and certified by industry watchdogs, ensuring fair play for all their slots, table games, and live dealer casino games. Sign up and make your first deposit with MatchPay today, and you can score up to $3000 in casino bonus free plays!
Pros:
Legally operates out of Costa Rica, Central America
MatchPay allows for rapid deposits with PayPal, Venmo, Cash App, Zelle, Square, etc.
Bitcoin + Bitcoin Cash supported
230+ real money electronic casino games + live dealer games
Low bonus rollover – Player-friendly!
Full international sportsbook, online poker room, racebook
Available to USA players aged 18 and up
Cons:
USA only
Excluded states: DE, MD, NJ, NV, NY
Limited bonus options compared to some casino sites
Full Review
Play Now
---
Best 18+ And Up Online Casinos Accepting MatchPay In 2023
Currently, Bovada is the only online casino for 18+ players that accepts MatchPay deposits. However, it will only be a matter of time before the operator's biggest competitors accept MatchPay as well, with other major 18 and up casinos following suit in the near future.
The first wave of online gambling sites we expect to unveil MatchPay support include:
Ignition Casino
Café Casino
Slots LV
---
What Is MatchPay?
MatchPay is a third-party peer-to-peer or person-to-person (P2P) payment platform that allows those with online customer accounts to sell part or all of their balances to other members with accounts at the same venues.
If you want to top off your account using a payment provider like PayPal, Venmo, Cash App, or Zelle, you can do so by purchasing another site member's funds via these services.
While MatchPay is currently not universally available (as merchants must opt in), the service is picking up steam and becoming a new standard in the online shopping and financial industries.
For 18+ gambling sites, MatchPay represents the first time that USA players have been able to make PayPal gambling deposits, Venmo gambling deposits, and Cash App gambling deposits. Zelle-to-BTC deposits are already commonly used by the best online casinos, but MatchPay allows Zelle transfers to go through more directly and quickly than ever before.
18+ Casino Banking With MatchPay
If you want to know how to use MatchPay to make deposits at legal 18 and up online casinos, the process is extremely simple, and we've outlined the steps below.
Because Bovada Casino is the first legitimate gambling site to support the revolutionary service, we will use Bovada MatchPay as the example, though we expect all major Internet casinos to follow the same general process:
If you haven't already, sign up at Bovada by following any of the links here. Be sure to use your real credentials when doing so, as you will have to prove your identity before being eligible to withdraw any casino winnings.
During the sign-up process, or simply by visiting the site's Cashier page if you're already a member, select the MatchPay deposit option.
This will forward you to the official MatchPay.app portal, where you will need to sign up for the free service. Just enter your name, phone number, email address, a username, and a password. Then submit the form.
You will receive a text message with a five-digit number and an email with a different five-digit number. Enter these verification codes in the appropriate MatchPay fields. Now, you're a registered MatchPay Trader.
At the next screen, select the amount of money you wish to deposit into your Bovada account. MatchPay will automatically search other Bovada member accounts for a Trader willing to sell you that amount out of their own Bovada balance.
Using the MatchPay portal, you will be put in touch with the seller and can then choose to use PayPal, Venmo, Cash App, or Zelle to transfer funds to the seller (with other P2P options being added to the service all the time).
After the sale is completed, your money will be deposited into your Bovada account, and you're ready to play hundreds of RNG slots, blackjack games, live dealer games, and more!
MatchPay Same-Day Withdrawals
While 18+ casinos have long offered same-day payouts for users who make Bitcoin deposits and Bitcoin Cash deposits (as well as other supported crypto deposits), MatchPay also offers Bovada members (and members of other top-rated online casinos, when supported) the option to receive same-day payouts. This is because, as a MatchPay Trader, you can also sell portions of your account balance the same way that you buy them.
The sole caveat here is that you aren't guaranteed to get same-day withdrawals with MatchPay, as the service automatically matches buyers and sellers, so your posting could be skipped over from time to time.
However, you will definitely be able to get same-day payouts most of the time, which will be credited to your name at whatever person-to-person payment processer you use for selling your account credits (PayPal, Venmo, etc.). This makes MatchPay one of the fastest paying casino banking options around.
MatchPay Casino Bonus Options
Online casino bonuses sweeten the pot for both new and returning members who make fresh deposits. With cryptocurrency deposits, these bonuses are typically enhanced, offering you more bang for your bankroll.
However, with MatchPay, you will only be eligible for the standard casino bonuses that come with non-crypto deposit methods.
That said, when more casinos roll out the service, you may see special MatchPay casino bonuses listed for enrolling in and using the platform, as it's in every betting site's best interest for as many players to use MatchPay transfers as possible.
MatchPay Mobile App Deposits
Mobile casino apps – or, more specifically, mobile casino web apps – are all on offer from the best online 18+ casinos. And for good reason – After all, there are hardly any gamblers out there from 18-20 (or, frankly, from 20-50!) who don't prefer to game on the go via iPhone casino and Android casino app experiences.
For these players, MatchPay is perfect, because it's mobile compatible with all devices, regardless of make or model. And since you likely have PayPal apps, Venmo apps, Cash App, and Zelle Pay on your mobile device already, this means you can fund your account, gamble, and receive payouts all on a single device from anywhere in America!
What Are The Benefits Of MatchPay Gambling At 18+ Casinos?
There are many benefits when it comes to making deposits at online casinos with MatchPay. However, there are a few drawbacks to the service as well, and we touch on the good and the bad below.
It's important to note, of course, that the good far outweighs the bad, as MatchPay is a true gamechanger that will allow an entire new generation of eighteen and up gamblers to legally, safely, and quickly fund their online betting accounts.
Benefits
Make MatchPay PayPal casino deposits
Make MatchPay Venmo casino deposits
Make MatchPay Cash App casino deposits
Make MatchPay Zelle casino deposits
Make MatchPay Square casino deposits
Transfers take just a few minutes
Safe and secure transactions guaranteed by MatchPay
No added fees charged by your preferred casino site
Allows players to retain bonus eligibility
Builds the online gambling community with players helping players
Allows for same-day payouts in many cases
Drawbacks
An extra step – You cannot directly deposit into your 18+ casino with PayPal, Venmo, etc.
Does not allow for the purchase of cryptocurrencies like BTC or BCH
Currently limited to just PayPal, Venmo, Cash App, and Zelle
Bovada is the only site that accepts MatchPay right now
Same-day payouts not 100% guaranteed due to MatchPay's automated system of matching buyers and sellers
MatchPay 18+ Casino FAQs
How old do I have to be to use MatchPay?
You can sign up for MatchPay at just 18 years old, which is the same age you have to be to join any of the top-rated online casinos listed here.
How does MatchPay work?
MatchPay works by allowing account holders at retail merchant services to sell all or part of their balances to other account holders at those same merchants.
At 18 and up online gambling sites like Bovada, this means that a Bovada member can buy a portion of another Bovada players' bankroll (or sell their own balance to another member) by using services like PayPal, Venmo, Cash App, and Zelle. 
Is MatchPay legitimate?
Despite being a new service, MatchPay is a legitimate company with countless satisfied customers. And when it comes to using MatchPay to fund your online gambling account, it's supported by the biggest and best name in the industry: Bovada.
Bovada doesn't just introduce services without vetting them, as the site has the best online gambling reputation in the world, and that's something they're never going to risk.
Is MatchPay trustworthy?
Yes. MatchPay is a trustworthy and guaranteed P2P payment exchange, and all transactions are guaranteed. If you ever have a dispute, MatchPay will solve your issue within 24-48 hours, as will Bovada and other 18 and up online casino operators that choose to support the service.
Is MatchPay safe and secure for online transfers?
Yes. All MatchPay Traders are verified via phone number and email, and they're rated for their compliance so you'll never get paired with a bad apple that will drag their feet on their end of the deal.
And because MatchPay uses payment processors like PayPal, Venmo, Cash App, and Zelle, you also have those brands' guarantees to lean on.
What other 18 and over online casinos support MatchPay?
Currently, only Bovada supports MatchPay. However, the most respected 18+ casino brands are sure to adopt the system in short order, with other reputable operators to follow in the near future.
Can I bet at 18+ sportsbooks with MatchPay?
Bet on it! Bovada currently accepts MatchPay banking, and since the site has a full international sportsbook with thousands of daily game lines, mobile sports betting, and live in-game betting options, you can use MatchPay to fund all your wagers on your favorite players, teams, and leagues worldwide.
Can I play 18 and up online poker with MatchPay?
Absolutely. Bovada's 18 and up poker room is the best in the business, offering cash play tables, multitable support, Sit 'N' Go tournaments, and even massive poker tournaments with thousands of players and life-changing jackpots. You can fund your Bovada poker and online poker bankrolls with MatchPay safely and legally.
---
*Disclaimer: The MatchPay casino banking option may be used for legal online gambling. However, MatchPay is not affiliated with and does not endorse this or any other online gambling resource or service.