Casinos 18 – Legal Online Casinos Allowing 18+ Year Olds And Up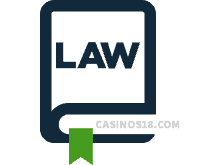 As gambling laws have relaxed across the US over the last few decades, the minimum legal gambling age in multiple states and at regulated online casinos has also begun to reflect this trend. Most states allow some type of gambling activities to 18 year olds, though not always in the form of casino gambling. Some states even allow bingo and pull tab games to be played by individuals as young as 16 years of age.
This Casinos18.com guide is designed specifically for US residents who are seeking options for enjoying 18+ casinos through a brick and mortar casino experience or through a legally regulated online casino experience. There are multiple regions in the United States with casinos that allow 18 year olds to gamble, as well as a handful of reputable and legitimate online casinos for players 18+.
Top Rated 18 Plus USA Online Casinos For 2023
The following online casinos are legally licensed to accept USA players and allow 18-year-olds to sign up and gamble for real money. We only recommend the most trusted online casinos to our visitors that we know offer fair and secure software and always pay players on time when they win.
Changing Times
There was a time in America's development when the very concept of allowing players as young as 18 to gamble was considered abhorrent to the public. Thankfully, those times have passed and it isn't all that difficult to find that 18 is the minimum age to gambling at a growing number of USA casinos.
Many people feel that it is unfair to allow an 18-year-old to engage in dangerous military service that risks their lives, yet tell them they cannot enjoy responsible gambling entertainment? This has been the argument that has effectively led to lowering the legal minimum drinking age in some states. Either they are adults at 18 or they are not.
Until everyone is on the same page with the legal minimum gambling age in the US, this guide will assist you in locating the best possible opportunities for you to enjoy legally sanctioned betting entertainment that welcomes players at eighteen and over.
How Old Do You Legally Have To Be To Enter A Casino In The US?
The answer to this question will vary depending on which state, and even which regions within that state you intend to participate in casino gambling. Most states where you can legally play casino games at 18 still leave it up to the county or the casino owners to determine whether or not they want to entertain this age group. California is one example of this as 18-year-olds have varying access to casino games depending on where in CA they are playing.
There are times in which the sale of alcoholic beverages can complicate matters for those old enough to gamble, but too young to consume alcohol. The sale of alcoholic beverages can be a huge revenue stream for casino properties, and therefore it sometimes drives them to prohibit 18+ players from enjoying casino games on their property.
Most 18 year olds do not arrive at a casino loaded with cash, so they are sacrificing a smaller revenue stream in order to maintain the more profitable option with their beverage sales, which incidentally often provides a boost to their betting revenue as well.
Where Can You Go To A Casino At 18?
There are 18+ casinos that simply limit where on the casino floor the 18-20 year olds can be present. For example, in some casinos, 18 and up players can play poker or bingo, but cannot enter the area of the casino where slots are present.
Other casinos allow the younger players anywhere on the floor and simply card everyone for drink purchases, or restricts the sale of alcoholic beverages to bar areas. Not only does each state have varying rules from region to region, but in many cases, each casino within that region also has the freedom to implement their own set of rules as long as they comply with state law.
States Where You Can Gamble at 18+ And Up
There are a number of states that legally allow casinos to offer their services to players who are 18 and over. As mentioned above, within this list of states, there are varying policies and regulations tied to the 18+ casino gambling laws. Just because Florida allows 18 year olds to legally gamble at casinos does not mean these players will have access to all amenities offered by the casino.
In fact, Florida, among others, is one state in which casinos only allow 18 plus gamblers to play poker or bingo, and do not give them access to slots, video poker or table games such as baccarat or blackjack.
Following is a list of all the states that allow some type of state-regulated casino gambling to players 18 and up:
Those 18+ players who feel their range of options locally is too limited or who do not have access to a brick and mortar 18 plus casino can scroll down a little further to find out more about online casinos for players 18+.
For more in-depth information concerning the legal minimum gambling age for players seeking to enjoy casino games for real money, visit our guide to states where you can gamble at 18.
Online Casinos For 18-Year-Olds
18 and over casinos are not limited to brick and mortar destinations. In fact, some of the most robust options available to US residents are in the form of legally regulated online casinos.
Online and mobile casinos that allow 18-year-old players make up a significant portion of the industry. These gambling sites allow players to participate in a wide range of casino games, including live dealer games, blackjack, video poker, slots, roulette, video poker, and various card games and specialty games. Additionally, some of them also offer 18+ online poker and sports betting options as well.
The key to successfully engaging in this type of entertainment is to ensure that the destination at which you are considering betting is legally licensed and regulated, holds authentic compliance certifications, and is operating legally within the industry but outside of the US.
The only legally sanctioned US-based online casinos currently available are located in New Jersey, Delaware, and Pennsylvania, however, neither of these three states offers under 21 casino gambling. There are a number of other states that are considering a state licensed online casino initiative, but thus far none of them has moved forward with anything these include Louisiana, Massachusetts, Hawaii, New Hampshire, and West Virginia.
This guide provides a look into the industry's leading destinations for 18 and over online casinos. We've spent a great deal of time and energy vetting these gambling sites through an intense review process and can recommend them without hesitation as legitimate, reputable and legally sanctioned online casinos.
You will find the option to play for free at each of them, which is a great way to try them out before you consider depositing money at an online casino. Each of these real money casinos accepts players eighteen years old and up and has demonstrated genuine commitments to providing legally regulated and highly secure online betting services to their customers. New players should see our guide to the best casino games for beginners to learn tips and strategies that can elevate your casino game.
What Is The Minimum Age To Gamble At USA Casinos?
We do not condone any type of underage gambling at physical land based casinos or at online casino destinations. We consider underage gambling to be a serious and dangerous risk that could expose minors to an area of adult entertainment not designed with their protection in mind.
The legal minimum age to gamble at USA casinos varies from state to state. Thanks to the technology age, most casinos have websites in which you can review the policies regarding their designated gambling age ahead of time. We urge you to comply with all state and federal laws pertaining to gambling, including those dictating the minimum gambling age for where you are located.
Other Types of 18 and Up Gambling Options
Other Countries Allowing 18 and Up Casino Gambling