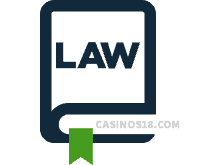 Gambling laws in the United States are complex and not necessarily easy to understand. This is true across the various gambling niches that make up this form of entertainment, including 18+ casinos. The relevant laws range from extremely restrictive to incredibly open minded, and everything in between.
We are not going to attempt to tackle every single gambling law that applies to the market in the US, but rather provide insight into those specific gambling regulations that govern the minimum legal age for casino gambling both online and offline. Here you will find valuable information to help you determine what your options are for enjoying responsible gambling entertainment based on the laws dictating the minimum legal gambling age that is applicable to your situation.
What Is The Legal Minimum Age For Casino Gambling In The US As Of 2023?
The answer to this question varies from age 18 to age 21 depending on where you are planning to play casino games. In some cases it also varies depending on what game you want to play. There is no blanket rule that covers every region in the US or the age of every player desiring to participate.
Below we will explain the regulatory structure that facilitates this variance in gambling laws across the nation. We have devoted a section of this guide to the 18+ states that  provides a look at all of the US regions that allow some type of casino gambling to 18 year olds.
What Is The Legal Minimum Age For Online Casinos Accepting US Players?
Again, the answer to this question does depend on where you are planning to enjoy your online casino gaming. Several US states have launched state regulated online casino initiatives, and so far, they all require players to be at least 21 years of age to participate. There are no state based online casinos that accept players under the age of 21.
However, there are a number of reputable offshore online casinos that accept players as young as 18. They are able to legally do this because doing so complies with existing gambling laws and regulatory oversight for the governing jurisdiction in which they are licensed. Licensed online casinos that accept 18 and up and are located outside of the United States are not subject to US federal law.
How State and Federal Gambling Laws Apply To Casino Gambling In The United States
Most of the nation's gambling laws are regional in nature, and that is actually a beautiful thing. Whenever you have a platform of laws or regulations that vary from state to state, it means that good old fashioned states' rights are being utilized appropriately.
What is legal in one state may be prohibited in another, and that's ok. The people residing in each state should be the ones to determine what types of gambling are or are not legal within their borders. That is what states' rights are all about.
With states' rights being in the driver's seat of gambling regulation in each territory, you will find that some states are more liberal with gambling entertainment than others. At the time of this writing, there are currently twelve US states that allow individuals entrance to casinos at age 18.
Those states include CA, FL, GA, ID, MI, MN, MO, OK, OR, PR, RI and WA. Each of those states has passed legislation that allows customers who are 18 and over to enter their casino properties.
However, while it is legally permissible for 18 year olds to engage in casino gambling, it does not mean that all casinos take advantage of this policy or that the ones that do welcome 18+ players offer them carte blanche access to all games. We are in the process of creating a guide for each individual state in which we will outline specific regulations that apply to casino gambling in each region.
Among US federal gambling laws, there are two that are applied to online gambling. The Federal Wire Act prohibits all US based online sports betting across the land. This means that it is not legal to own or operate an online sportsbooks within US borders.
The DOJ did issue a formal opinion in 2011 that confirmed that this law only applies to sports related online betting that is based in the US. This means that the law does not apply to any other form of betting, including online casino gambling.
The Unlawful Internet Gambling Enforcement Act (UIGEA) provides regulatory oversight concerning how US banks and financial institutions process online gambling related transactions. Both of these laws only apply to US based gambling entertainment, and neither of them makes it a crime for US residents to enjoy casino games at legally licensed and regulated online casinos that are operating legitimately within the industry.
Why Can I Play Slots At 18 In A Casino In California But I'm Not Allowed To In Florida?
As mentioned above, the legal minimum gambling age varies from state to state, and can also vary depending on the type of gambling in question or which county within that state you are gambling in. For example, California is home to a large number of brick and mortar casinos across the state.
State gambling laws allow these casinos to accept players at the age of 18, but the state also leaves it up to individual counties to determine their own regulations, and also allows the casino properties themselves to adopt their own policy on the matter.
Eighteen year old players may be able to play all casino games at one casino, but may be limited to only bingo or poker at another destination. Whether or not the establishment serves alcohol and where the alcohol is served within the casino may also play a role in what areas of the casino floor the younger players have access to.
Florida takes a little different approach. The 18+ casinos in Florida allow 18 year olds to play poker, various table games and bingo, but do not allow them in the area of the casino floor that houses the slot games.
All of the reputable brick and mortar casinos will have a website that explains their policies and procedures concerning their minimum age requirements, and we suggest that you read these before heading out to casino properties. The 18 plus online casinos you find listed in this guide allow players access to all games upon registering for an account, making this web based platform much easier to navigate than the land based options.
If My State Does Not Allow 18 Plus Casino Gambling, Is It Still Legal For Me To Play Casino Games Online?
Absolutely, with the exception of Washington, there are no states that expressly make gambling at legal offshore online casinos a crime. Other than Washington, there are no federal or state laws that prohibit US residents from legally enjoying online casino gaming at licensed and regulated 18 and over online casinos.