18+ Baccarat – Legal Online Baccarat For Players 18 And Up
Unfortunately for gamblers under 21, brick and mortar options are limited throughout the United States. In America, most states require their casino players to be 21 or over. However, for gamblers 18-20 years old, there are five states that give players a chance to play baccarat in live casinos.
If an 18-and-up casino with baccarat isn't nearby, American-based bettors also have the option to use online casinos; only 1 state currently prohibits the use of licensed offshore online casinos – Washington. All of the featured offshore casinos on this page allow players to bet real money as long as they are 18 or older.
For other popular casino games see our guides for 18+ blackjack, 18+ slots, 18+ video poker, keno, and even 18 and up live dealer games online.
Can 18-Year-Olds Legally Play Baccarat In 2023?
Yes. There are no federal gambling laws that prevent 18-year-olds from playing online casino games. Barring state laws to the contrary, anyone over the age of 18 can play and wager online.
Top Online Baccarat Sites for 18+ Players In 2023
The following recommendations are legal for US residents to play and will accept players over the age of 18. Each of the following casino sites utilizes top-notch security measures, offers generous signup bonuses, and has multiple variations of Baccarat. Our team has vetted each of the following sites and determined they are safe to play while providing hours of online entertainment. Find out more about the following sites by clicking read review or by checking our reviews page.
What Is Baccarat?
Baccarat is one of the most popular card games in the world. The basics of the game are as follows:
Players receive cards that are counted to determine the hand's value. The ace is 1, cards 2-9 are their face value, and cards 10 and up are worth 0.
Players can bet on the player, banker, or a tie.
The banker and player both receive two cards. When totaling the points, scores over nine drop the first digit. (A score of 11 is just 1.)
After the player and banker receive all their cards, the highest score is the winner.
Where Is Baccarat Available Locally For Players 18 And Up?
Baccarat is available all throughout the United States. Sadly, there are only a few states that allow players under 21 to play. The following states have at least one casino that allows 18-year-olds to legally play baccarat within the establishment:
Online Baccarat For 18-year-olds
Since baccarat is extremely limited for gamblers under 21 in the US, offshore casinos provide an easily accessible alternative. For players that are at least 18, the online casinos listed on this site offer unrestricted access to baccarat and 18 and over live dealer Super 6, a popular variation of baccarat.
In many cases, offshore casinos have comparable, or even better, user experiences for gamblers — especially baccarat players under 21. With 24/7 access, the possibility of sign-up bonuses, and the ability to play on mobile devices, online casinos offer a breath of fresh air to casinos in the digital age.
Is Online Baccarat Safe?
As long as you stick to the reputable online casinos that have been carefully vetted by industry professionals, playing baccarat online is very secure. The sites listed on this page feature data encryption, fraud protection, and trained staffs to constantly monitor their privacy protocols. These sites are all licensed individually or through their group, meaning their security is under constant surveillance to protect players.
Mobile Baccarat
What might be online baccarat's biggest perk is the ability to bet on mobile devices. The online casinos on this page are optimized for mobile play, meaning phones and tablets with internet capabilities can run baccarat through the site without adding extra software or applications. Any 18-year-old with a smartphone can access unlimited baccarat, even if they can't enter a brick and mortar casino.
What About Live Online Dealer Baccarat?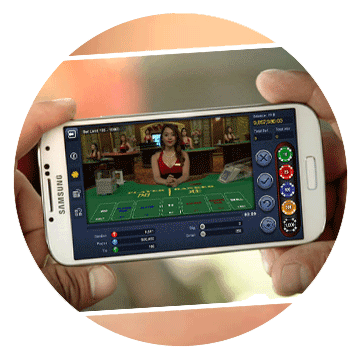 Playing live dealer games online offers a unique opportunity that combines a live dealer experience with online access using advanced video streaming technology. Our featured online casinos have sections of their site dedicated to live dealer games with baccarat, roulette, video poker, and blackjack offered in their live dealer casinos.
Through a sophisticated video chat system, the dealer is broadcasted while dealing baccarat with online players interacting in real-time. Online live dealing is a perfect mix for baccarat players that want the luxury of online play but also want a real dealer to regulate the game.
---
FAQs
Is there a strategy to baccarat?
There are multiple baccarat strategies that players use, including following streaks, following the shoe, the Avant Dernier system, or just treating each hand as a separate event.
What is the house edge in baccarat?
For six and eight-deck games, the house edge is 1.06% on the banker and 1.24% on the player. On one-deck games, the edge is 1.01% on the banker and 1.29% on the player.
How many decks do baccarat games use?
Baccarat games usually use eight decks. However, brick and mortar casinos and online games can also play with six decks or one deck.
Are live dealer baccarat games available at online casinos?
Yes. With a single user account, you can utilize all the options the site has to offer including live dealer games, sports betting, poker, and horse betting.
Can you count cards in baccarat?
Many experts claim that baccarat is not countable because the game is symmetrical with fixed drawing rules.