States Where You Can Legally Gamble At Online Casinos At 18 Years Old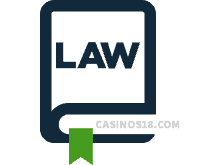 This page is included as a gateway to accessing information on individual states that legally permit 18 and over casino gambling.  This list reflects states that allow state-regulated casino gambling to be offered to 18-year-old players in some capacity.
Each state utilizes different ways of implementing their regulations, so the rules, laws, and policies will vary regionally. We have included information on this page in two specific categories: states that allow brick and mortar 18 plus casinos, and states where it is legal to access 18+ online casinos.
Top Rated 18 Plus Online Casinos
Legal Gambling Ages By State – States Where You Can Play Online Casinos Legally At 18+
The following is a list of all US states that allow you to gamble at 18 years old. Click the links to learn more about specific gambling laws for that particular state and how they implement their minimum gambling age requirements.  We also cover information about land-based and online casino options for each state.  Twelve of these states legally permit 18-year-olds to enjoy casino games at brick and mortar casinos, while the remaining are all states where it is legal to participate in 18+ casino gambling online.
There are very few regions in the US that have chosen to prohibit licensed and regulated online gambling from offshore online casinos. In fact, Washington state and Connecticut are the only ones that have specifically made it a crime for residents to participate in online betting of any kind.  Most online casinos accept players who are at least 18 years old, so those states that have not legally banned offshore casino destinations do not prevent their residents from engaging in online casino gambling at age 18.
The states listed here all legally allow some type of casino gambling to players who are 18 and over.  States' rights have ensured that each individual region is in charge of their own destiny regarding the legal status of gambling for their residents.  We wouldn't have it any other way!
As we develop the pages for each state, you will be able to review specific regulations and policies associated with the state's legal minimum age for casino gaming.  We provide insight into what these rules and regulations mean for the state's residents who are seeking opportunities for visiting 18 plus casinos in a brick and mortar setting and through licensed online casino destinations.
US States That Allow 18 Year Olds To Gamble Legally At Brick And Mortar Land Casinos
There are currently twelve states that have established 18+ over as their legal minimum gambling age for state-regulated casino gaming.  Those states include Washington, Rhode Island, Puerto Rico, Oregon, Oklahoma, Montana, Minnesota, Michigan, Idaho, Georgia, Florida, and California. To find out precisely how each of these states applies these regulations to their gambling marketing, you can click on the link above for that state, where you will find an explanation of the relevant gambling laws that impact the casino gambling opportunities for players.
While the remaining states in the list above do not allow 18+ gambling at land-based casinos, they are still included due to their numerous alternatives for other types of legitimate eighteen + gambling options.  The additional state links in the table above present information regarding each state's regulations and laws concerning legally sanctioned online casino gambling and the minimum age requirements associated with it.
---
**Our guide is not designed to serve as or substitute for professional legal advice or services.  We are not lawyers and are not trained to provide legal services.  This information is based on our own personal experience in the gambling industry as well as extensive research.  If you have specific legal questions concerning gambling, we suggest you speak to an attorney.