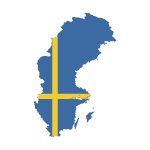 While they do not offer land-based 18+ casinos in Sweden, patrons of the country can gamble online at 18. The reason for this different minimum gaming age for casinos is because of who owns the land-based venues.
We will explain why Sweden offers two minimum gambling ages, discuss land-based casinos, other available gaming options, and legal online wagering domestically and offshore.
Best Sweden 18 and Up Online Casinos For 2023
Swedes who are 18 and over can enjoy all forms of gambling available in the country, this includes online casino gaming at licensed offshore platforms. The table below contains our recommended 18+ online casinos based on licensing, credibility, reliability, industry experience, game selection, security, and efficient banking suite.
When Did Sweden Legalize Gambling?
Sweden officially legalized gaming in the form of lotteries in 1994. The act also allowed non-profits, horse racing associations, and the Swedish Lotto to offer lotteries via licensing by the Swedish Gambling Authority (SGA). Under this act, the Svenska Spel was permitted the exclusive right to offer sports wagering and the ATG was given the exclusive right to arrange pari-mutuel betting on horses.
In 1999, the Casinos Act required operators serving casino games to obtain a license by Swedish regulators. The act also limited the number of available land-based casinos to be built in the country to six. In 2002, an amendment was made to the 1994 Lotteries Act to allow Swedish gaming operators to offer games online along with giving the SGA the regulatory right to oversee online electronic lotteries, casino games, and betting.
In 2018, the Spellag SFS 2018:1138 passed as law with an effective date made for January 1st, 2019. This law required offshore online gaming operators to gain a Swedish license as well to offer services to Swedes. Recent laws have required online gaming providers to allow 18 plus Swedish casinos while maintaining a strict minimum age of twenty for land-based casinos.
How Is The Minimum Gambling Age Determined In Sweden?
Sweden's minimum wagering age for most forms of gaming is 18. However, eighteen-year-olds are only allowed access to lotteries, kino, bingo, non-profit table games, and online casinos hosted by Sweden or offshore. Bars and ferries will allow eighteen year olds and those older to gamble.
However, land-based casinos operated by the Svenska Spel (currently there are 4) are subjected to provisions made in the 1999 Casinos Act which prohibits casino gaming access to those under twenty years of age. It is likely the minimum gaming age is 18 and up because of the nation's drinking age. Most countries align their minimum age restriction with their minimum drinking age.
What Forms of Gambling Are Legal and Available In Sweden?
Sweden permits various forms of gaming including charitable gaming for non-profit, lotteries, scratch cards, bingo, slots (otherwise called token machines), kino, poker, roulette, blackjack, craps, horse race betting, online gaming, and sports betting. Legal forms of online gaming include slots, bingo, poker, kino, and other typical casino games found online.
Age 18: Blackjack, Bingo, Charitable Gambling, Craps, Horse Race Betting, Kino, Lotteries, 18+ Online Gambling, Poker, Roulette, Scratch cards, Slots, Sports Betting
Age 20: Land-based Casinos owned by Svenska Spel
Popular Swedish Casinos
Below is a list of popular land-based Swedish casinos owned and operated by the Svenska Spel:
Casino Cosmopol Gothenburg
Casino Cosmopol Malmo
Casino Cosmopol Stockholm
Casino Cosmopol Sundsvall
Are 18 and up Online Casinos Accepting Players From Sweden Legal?
Swedes have multiple online casino options hosted either domestically or offshore. So long as these online gaming platforms are licensed by a legitimate regulating authority in the proper jurisdiction then those players who are eighteen years of age can freely, safely, and legally enjoy casino gambling.
FAQs
What Is The Minimum Casino Gambling Age In Sweden?
To access Sweden's land-based casinos, patrons must be 20, however, to access any casino games online patrons must be 18 and over this includes online casino games hosted by entities based in Sweden or overseas.  Eighteen-year-olds can also access almost any other form of gaming in Sweden.
Who Regulates Gaming in Sweden?
The managing Swedish gaming regulator is the Swedish Gambling Authority otherwise known as Lotteriinspektionen by locals. The lotteriinspektionen (now known as spelinspektionen)is the organization responsible for oversight, regulation, licensing, and the safety of the Swedish public.
What's The Penalty For Underage Gambling In Sweden?
Swedish regulators were given the task of creating rules that protect players, prevent money laundering and underage players from gaming by the EU. While they have done much legislative work to accomplish these goals they have yet to detail how they plan to punish violators of gaming laws and underage gamblers.
Where Can I Find 18 and Up Casinos In Sweden?
Swedes who wish to enjoy casino games but are only eighteen and over and not yet 20, can enjoy online casino gambling by providers based in Sweden or licensed offshore online Swedish 18 and over casinos. This is allowed by new laws put in place for casino ages and games in Sweden.
What Gambling Offers Are Illegal In Sweden?
Illegal forms of gaming include those that violate the Lottery Act, which includes games not licensed by the country's Gambling Authority. As well as, the advertisement and promotion of wagering services to minors.
Resources