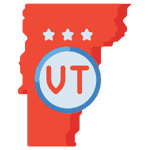 This state does not offer casino gambling or Vermont 18+ casinos, which leaves little gaming options to residents and guests in the form of it's state-run and other inter-state lotteries and approved charitable gambling.
The Green Mountain State was once home to a booming horse racing industry, and while there are laws in place for legal pari-mutuel betting on such activities, there are no active tracks and no simulcast facilities within VT making this law a moot point. Many residents from Vermont are aware of how dry the state is and often travel to neighboring states that provide 18+ casinos, like Connecticut.
Here we share information on legal forms of gaming within VT, Green Mountain State gambling laws, legal online options, historic gaming legislation, and frequently asked questions. While some readers may be disappointed with the available offers within VT, players and their guests can learn more about how they can enjoy casino gambling options on legal offshore internet casinos. Nevertheless, it is important to understand US 18+ casino gaming laws no matter where you are from.
Can You Gamble At 18 In Vermont?
Gamblers 18 and over may participate in Vermont's two legal forms of gaming. While this minimum age requirement does not restrict players from all forms of available gambling within the state, they are limited by what they can access on land within VT borders. Charitable gambling is heavily regulated, games must be approved by the designated authorities or risk violating gambling laws.
Charities, schools, churches, and non-profit organizations may sponsor raffles, poker tournaments, bingo, casino nights, and sell pull-tabs to generate funding. Players that are 18 can participate in these pro bono games and experience gambling in this setting. However, profits made are given to the organization hosting the event, although there are capped cash prizes available to win.
Players that are eighteen may also purchase lottery tickets at lottery retailers or video lottery terminals which offer substantial monetary rewards for winners and profits from ticket sales help fund VT's educational fund. However, there are other ways VT players 18+ can legally enjoy casino gambling and that is through a legally licensed online site.
Is It Legal To Gamble Online In Vermont?
Yes. According to Federal gambling laws, there is no ban for US citizens to engage and gamble on legal international gaming servers. Instead, the Federal government allows individual states to determine their own stance on online gaming. Most states have not specified their stance on offshore gaming platforms but rather strictly forbid unregulated state-based gaming sites. Washington remains the only state within the US that has restricted its residents from legal offshore gaming.
Most Reputable 18+ Online Casinos For Vermont Players In 2023
Green Mountain State players can use this provided list to direct themselves toward legal internet-based offshore online gaming destinations. These 18+ online casinos offer players that are eighteen and older access to real money casino-style games which include table games, keno, craps, roulette, poker, and even sports betting offers.
We highly recommend these online brands for their years of experience in the industry as top-performing platforms who have been recognized for their service, quality, reliability, and security measures.
What Vermont Casinos Are 18 and Up?
Gambling laws in Vermont state that the legal gambling age is 18 years old. However, there are no casinos physically located in Vermont at this time. Residents over the age of 18 can legally access the online casino sites listed in this guide.
Legal Land-Based Gambling Available In VT
Find a Vermont Lottery Retailer Near You
Brief History Of Vermont's Gambling Laws
Early Vermont settlers were exposed to European-style card games and horse racing activities. The Green Mountain State often had a mind of its own, as it didn't follow much of the things the original colonies did. Vermont was even the first to abolish slavery completely in 1777.
In 1779, Vermont outlawed lotteries that did not have special liberty.
Between 1779-1804, special liberty was granted to lotteries that would help fund the construction of public work projects.
In 1826, VT banned out of state lottery tickets.
By 1959, pari-mutuel betting was allowed to take place at horse races during annual fairs.
In 1976, voters approved of a state-run lottery.
In 1978, the first lottery was drawn.
By 1985, The first tri-state lottery compact was formed between Vermont, Maine, and New Hampshire.
In 1998, a law is passed to mandate that lottery profits go toward the state's education fund.
In 2011, a proposal to open a state-run casino is introduced. The bill fails.
In 2012, a proposal was introduced to sell lottery tickets online. This bill also failed.
18+ Casinos For Vermont Residents
Online casino hosts must be regulated by legitimate jurisdictions and licensed by approved authorities in order for players 18 and older to participate in legal casino gambling outside of their state on an online site. VT players can utilize our featured list of brands to find legal gaming sources to participate on. All of the brands we feature have undergone intense vetting and represent secure, reputable, and safe gaming destinations.
FAQs
What's Vermont's Minimum Legal Gambling Age?
Vermont's minimum gambling age is 18 for a number of gambling entertainment venues. 18-year-olds can access charitable gambling which includes pro bono games like raffles, poker, bingo, casino nights and pull tabs. Eighteen-year-olds can also buy lottery tickets from retailers or video lottery terminals.
Is It Safe To Gamble Online As A VT Player?
Those Vermont players that gamble on verified and designated online sites remain safe. However, those that visit unverified online casinos run the risk of participating in illegal, unsecure platforms that can host malicious malware, and steal player information and funds. Our guide delivers reliable and safe resources that use the most secure protocols and technology to protect their players and themselves.
Do All Online Casinos Host Fair Games?
Not necessarily, as there are many online gaming sites that do not utilize random number generators (or RNGs). RNGs are crucial to delivering truly random numbers and game results, which ensure a game's fairness. Online casinos should be transparent in their usage of RNGs and display their fair gaming compliance credentials, legal and reliable gaming sites present these at the bottom of their web page this way any player can find it. However, gaming sites that do not present this information should be avoided as they more than likely do not employ RNG technology to guarantee fair gameplay.
Which Online Casinos Accept Vermont Players 18 And Older?
All of the online casinos we feature on this VT guide gladly accept players from the Green Mountain State who are at least eighteen-years old or older. There are few online brands that host games for US players and even fewer that provide games for players as young as eighteen. This is due to regulation disagreements between the US gaming board and international casino brands.
Can Vermont Players Gamble At Licensed Online Poker Rooms and Sportsbooks Sites?
Yes, here are three resources that offer VT players 18 and over access to both sports betting options and poker. Not only that, these sites provide their own online casino games which can be played for real money. New players are offered distinct deposit match bonuses and even game-specific bonuses to be enjoyed for hours of entertainment.
Bovada Sportsbook – 50% Bonus Max $250
Betonline Sportsbook – 50% Bonus Max $2,500
Sportsbetting.ag – 75% Bonus Max $1,000
Helpful Resources For VT Gamblers