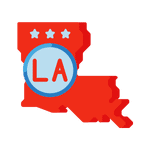 The Bayou State has deep roots with gambling ever since the French colonized the territory in the 1700s, however, you will not find any Louisiana 18+ casinos here anymore. The French introduced billiards and card games to the area and created a culture for gaming, they even built gaming establishments before churches; we discuss this further down our LA guide in the history section.
During the early 1800s, federal gambling bans did not reach places like the popular gambling city of New Orleans; in fact, New Orleans remains a hub for gaming to this day. The Bayou State as a whole provides players with a variety of gaming entertainment from commercial casino gambling, tribal gaming, casino cruises, riverboat gambling, lotteries, wagering on horses, and charitable gambling.
This state is known for its food, music, gaming, and festivals such as Mardi Gras; however, few know of the extent of Europe's influence on Louisiana's culture specifically in terms of gambling. Interested readers can use this guide to learn more about the Bayou State and its gaming culture from LA's minimum gambling age, available gaming, laws, and history.
While there are no 18+ casinos in Louisiana, there are other states that provide casino games to young adults; however, we suggest reading 18+ casinos gambling laws before deciding on a specific state gaming destination, especially because there are plentiful of viable gambling options within the state.
Can You Gamble At 18 In Louisiana?
Players who turn 18 are seen as young adults in the eyes of the law and are permitted to participate in limited forms of gaming. These types of gaming include pari-mutuel betting on horse races either on track or simulcasted inter-state or international races at off-track betting facilities, and participate in charitable gambling in the form of keno, bingo games, and raffles.
Young adults, however, are restricted from accessing advanced levels of gambling such as purchasing lottery tickets and casino gambling and are not permitted to gamble at tribal casinos, slot-only casinos, commercial casinos, casino cruises, riverboat casinos, and casino games found at racetracks as players must be 21. This usually causes many young adults to seek out legal 18+ casinos found in other states and online.
Is It Legal To Gamble Online In Louisiana?
Yes. However, it is only considered lawful to participate at licensed offshore 18+ online casinos, this means that casinos must be legally licensed by an authoritative jurisdiction and hosted from a location outside of the United States. Alternatively, a casino that is owned and operated by a parent company that holds licensing credentials can also operate legally within the industry.
Louisiana has no law to date, that forbids its residents from participating in legal and internationally-based gaming sites. Even more so, the Federal Government does not forbid such participation either. Rather, players who participate in illegal (meaning unregulated and unlicensed) Louisiana-based or offshore sites are breaking state and federal law.
Most Reputable 18+ Online Casinos For Louisiana Players In 2023
Here we offer a simple guide for Bayou State players, they can easily find legal online sources to participate on below. These international online gaming brands meet all US gaming requirements and are legitimately licensed, as well as, verified for strong security standards by our leading industry experts. These platforms utilize military-grade technology to certify player safety through intensely strict policies, security measures, and protocols.
What Louisiana Casinos Are 18 and Up?
Louisiana does not allow young adults to enter and gamble within land-based casinos regulated and licensed by the state. However, Louisiana 18-year-olds can use offshore online casinos to gamble at with no restriction on the types of games they can play at.
Some of Louisiana's Casinos and Race Tracks
Amelia Belle Casino
Belle of Baton Rouge
Boomtown Casino & Hotel
Coushatta Casino Resort
Cypress Bayou Casino
Cash Magic Casino
Lucky's Casino
Cottons Corner Bingo
Bingo Center
Azalea Hall
Veteran's Bingo Parlor
Bingo Ranch
Galliano Truck Plaza & Casino
Whispering Pines Casino
Rebecca Plantation Casino
Grand Point Grand Casino
Longhorn Tuck and Car Plaza
Quarters Casino & Travel Plaza
Rainbow Daiquiris Casino
Choctaw Pines Casino
Delta Downs Racetrack, Hotel & Casino
DiamondJacks Casino
Eldorado Resort Casino
Evangeline Downs Racetrack & Casino
Fair Grounds Racecourse & Slots
Golden Nugget
Harrah's
Hollywood Casino
Isle of Capri Casino
Jena Choctaw
L'Auberge Casino & Hotel
Margaritaville Resort Casino
Paragon Casino Resort
Sam's Town hotel & Casino
Treasure Chest Casino
Brief History Of Louisiana's Gambling Laws
French settlers were responsible for Louisiana's love affair with gaming, they even built cabarets and billiard halls before building a single church. During the 1700's colonial-era of LA many ordinances were created to curb gambling, including outlaws to gaming activities during religious services and limits to games of chance pots. Eventually, Louisiana banned gambling altogether, however, this attempt to curb gaming did not have the effect officials desired. Rather, this ban created more want for gaming and sent players underground to seek out their vices.
Eventually, in 1753, officials tried to reverse their stance and simply control illicit gaming by opening the first government-run casino. This was done by the then-Governor Louis Billouart de Kerrlerec.
After the French and Indian War that lasted between 1754-1763, Spain took control of the Louisiana-French territory.
By 1803, the US had control of Louisiana as a territory. The city of New Orleans had more gambling establishments than major towns in the colonies combined.
In 1812, New Orleans was exempt from the federal ban on gaming. This was the same year LA received its state-ship.
By the 1860s, lotteries became prevalent in southern states usually to fund public works projects and war – but were often corrupt. Many states banned lotteries to protect their resident's money.
In 1866, LA decided to create a state lottery which became popular in the southern region and eventually was shut down in 1895 due to corruption.
In the 1920s, pari-mutuel betting on horse races was only legal at fairground tracks.
In 1991, LA created a new state lottery which was overseen by an authoritative regulatory commission. This same year 15 riverboat casinos were permitted to operate within the state making LA the 4th state to permit riverboat gambling. LA also allowed for video poker machines to operate in the state.
By 1992, one casino was permitted on dry-land in New Orleans.
In 1993, three tribes negotiated and signed gaming compacts with the state to open and operate their own casinos on their land.
In 1997, slot machines were legalized and able to be placed on racetracks.
In 2013, a committee was formed to look into the viability of legalizing online gaming.
In 2017, video poker machines were permitted to accept $100 bills and transferable vouchers worth an unlimited amount of money.
18+ Online Casinos For LA Residents
Louisiana players who are at least eighteen are welcome to enjoy the wide array of available gaming types and titles to be found on the list of legal online casino brands we provide. Young players from the Bayou State, in particular, may access various games each with their own variations such as video poker, blackjack, dice games, table games, roulette, bingo, keno, slots, and more. Usually, these casino games are restricted to players in the Bayou State who are 21 and over, as LA casinos do not permit young gamblers to participate in their games.
FAQs
What Is The Minimum Legal Gambling Age In Louisiana?
Louisiana's minimum gambling age varies by game. Eighteen year old residents and visitors can participate in pari-mutuel wagering and charitable gambling. Those aged 21 and over can legally play the lottery, and at casinos like tribal casinos, racinos, slot only casinos, casino cruises, riverboat casinos, and commercial casinos.
Can Louisiana Players Safely Gamble Online?
LA players 18 and over may safely gamble from the legal online resources we provide as they have been reviewed by our team for safety, security, reliability, and most importantly legality. It is crucial to stick with verified sources as few casinos found on the internet will be legal, licensed, or secure. Most internet-based casinos appear to be legal but do not hold gaming licenses or provide a safe platform for players.
How Do LA Players Know If The Games They Are Playing Online Are Fair?
Legal online casinos usually present information on the fairness of their games and casinos, usually by stating their use of functional RNG technology and compliance with industry set fair gaming standards on their homepage or a specific page. This helps give players information on whether the games hosted will provide an authentic experience and true results.
No one wants to play on a rigged game, which is why it is important to locate this information before putting money on any games. We provide a source of reliable and fair online casinos in this guide.
Is It Possible For Louisiana Players To Gamble On Any Online Casino?
No. Bayou State players 18 and older can only participate in online gambling at online casinos that are operating legally offshore and targeted for the American gaming market. This ensures that LA players are not breaking any state-based, federal, or international laws. Meaning, it is safer to gamble on the list of online casinos we provide.
Where Can Louisiana Players Find Legal Sportsbooks Or Poker Sites?
Right here. We provide three specialized sports betting and poker gaming destinations below. These comply with US gaming requirements through their offshore location and legitimate licensing. Players who register for the first time on these platforms can enjoy these hefty welcome bonuses.
Bovada Sportsbook – 50% Bonus Max $250
Betonline Sportsbook – 50% Bonus Max $2,500
Sportsbetting.ag – 75% Bonus Max $1,000
Helpful Resources For Gamblers In Louisiana