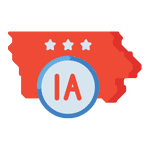 This Midwestern state that has a rich history and involvement with gambling from past Iowa 18+ casinos to modern docked riverboat casinos packed with tables and card halls. The Hawkeye State has long maintained its agricultural roots, known to be the leading producer of corn and soybeans, which hold a special bond to its native rivers.
The river was first to bring early pioneers and settlers to the area between 1760-1860, it later helped transport produce and crops for sale to larger towns downstream, and finally with the invention of the steamboat brought gaming entertainment upstream from the Mississippi. Today, gambling has changed from its past unregulated laissez-faire approach to meet modern needs such as increasing the minimum gambling age from 18 to 21 and building oversight committees to regulate various forms of gambling entertainment.
Available gaming to be found within IA are as follows – tribal casino gambling that contains poker, bingo, slots and table games, full range riverboat casino gambling, live or off-track pari-mutuel betting on horse races, charitable gambling with bingo or raffles, social gambling with a $50 loss/win limit, and state-run and inter-state lottery sales.
Iowa has a more relaxed attitude when it comes to gambling laws, more than likely this viewpoint was influenced by the state's history with gaming, compared to other states in the US that completely ban gaming and 18+ casinos. While states differ in their acceptance of gaming, understanding general laws concerning 18+ casinos remain crucial for young residential and out of state players interested in gambling.
Can You Gamble At 18 In Iowa?
All forms of legal gambling in the Hawkeye State are restricted to patrons who meet the set minimum gambling age requirement of 21. This minimum age is across the board for all forms of gaming in IA including lottery sales, charitable gambling, tribal and commercial casino gambling, and pari-mutuel betting.
This usually leads young players to cross state-lines to enter states with 18+ casinos; however, there remain legal avenues for young adult gamers interested in accessing various forms of gambling without stepping outside of their home through 18+ casinos online.
Is It Legal To Gamble Online In Iowa?
Federal laws do not forbid US players from accessing legal online casinos that are licensed by offshore jurisdictions. However, participating in online gambling as a minor through illegal offshore sites, or unregulated state-based sites is grounds for arrest as they violate state and federal gaming laws. To ensure IA players are participating on legal gaming sources, use the table below that contains safe recommended online brands.
Most Reputable 18+ Online Casinos For Iowa Players In 2023
These online casinos are among the top leading brands in the American market in terms of performance, security, quality, and gaming selection. Players from the Hawkeye State that are at least eighteen are eligible to gamble on real money games on these internet-based casino platforms.
Each online platform utilizes cutting-edge security technology to ensure player information is protected and encrypted from hackers. These recommended gaming destinations also underwent intense reviewal of their fairness, payout timeliness, service reliability, and support convenience. After passing our standards, we happily list each outstanding brand here.
What Iowa Casinos Are 18 and Up?
There are no Iowa 18 plus casinos available for young adults in the state to step in and gamble in. Iowa casinos restrict access to 21-year-olds. However, there are offshore online casinos available to IA players who are eighteen so they may experience and wager on casino games.
Available Land Based Casinos in Iowa
Diamond Jo Casino Dubuque
Riverside Casino & Golf Resort
Rhythm City Casino Resort
Lakeside Hotel Casino
Diamond Jo Worth Casino
Isle Casino Hotel Bettendorf
Ameristar Casino Hotel Council Bluffs
Hard Rock Hotel & Casino Sioux City
Prairie Meadows Casino Racetrack & Hotel
Catfish Bend Casino
Wild Rose Casino & Resort
Casino Queen Marquette
Q Casino
Blackbird Bend Casino
Grand Falls Casino Resorts
Winna Vegas Casino Resort
Meskwaki Bingo Casino Hotel
Rabiner Bingo
Horse Show Council Bluffs
Isle Casino Hotel Waterloo
Wild Rose Casino & Resort
Brief History of Iowa's Gambling Laws
The Hawkeye State was a vibrant immigration pool from the late 1700s to mid-1800s, first came the French-Canadians, Spaniards, and then after the Louisiana purchase, other European immigrants which introduced card games and sports betting and then finally post-reconstruction era African Americans traveling North from the South.
Even though the state's constitution banned all forms of gambling from the beginning of its statehood in 1846, unregulated gambling flourished. Iowa was rich with deposits of coal and lead, and many IA residents worked as miners. Mining towns like Muchakinock held annual fairs that sponsored horse races and shooting contests.
These small miner concentrated towns often held purses larger than the annual county fairs'. Thousands traveled through IA as large land grants interested investors to build railroads through the Hawkeye State. This added to the swelling illicit gaming industry within IA. Gambling remained completely banned from the books until 1972.
In 1972, raffles and bingo were permitted as games for charitable gambling.
In 1983, IA permits pari-mutuel wagering on horse and greyhound races.
In 1985, voters approved of a state lottery.
By 1989, voters approve of riverboat casino gambling in IA. Off-track bets allowed and simulcast racing allowed between state racetracks.
In 1991, counties could vote on whether they allowed casinos within their county. IA introduced the first 3 legalized riverboat casinos in the US. Later this year, one more riverboat casino opened.
In 1992, three tribal gaming compacts were negotiated. The Power Ball became available to IA players.
By 1994, gaming machines are allowed at racetracks.
In 2004, table games were permitted at racetracks fully creating racinos.
In 2009, Mega Millions added to the list of lottery options in IA.
In 2012, a bill was proposed to regulate online poker. This bill failed to meet the introductory deadline.
In 2013, another legal poker bill was introduced but was shot down in session.
By 2014, dog racing had come to an end in IA. Dog races no longer available.
18+ Online Casinos For Iowa Residents
Gambling opportunities are not completely restricted from young IA players, while they cannot access most forms of available gambling in the Hawkeye State until they turn 21 there is a plethora of legal online casinos which allow players eighteen and older to participate in poker, sports betting, casino games, and jackpots.
Our guide features legal US-friendly gaming platforms that utilize the utmost secure profiles and protocols to ensure player protection. These legitimately authorized and sanctioned gambling sites are the most secure and fair online casinos for Hawkeye State residents.
FAQs
What Is The Minimum Legal Gambling Age In Iowa?
As mentioned earlier, Iowa's minimum gambling age is set at 21. Visitors and residents must be 21 to enjoy the state's lottery, casino gambling at tribal venues or commercial sites, social gambling, and parimutuel betting.
How Safe Is It To Gamble At An Online Casino In IA?
It is extremely safe to gamble at legal online casinos that utilize advanced security protocols and software. Otherwise, whether the online gaming site is illegal or does not utilize such secure technology, it is not safe for players to gamble on. This is because illegal or un-secured platforms can bring harm to players, either through infecting their computer or stealing their personal information.
Gamblers must enter a lot of personal information to register for an account at an online casino so placing sensitive information on a platform that could be illegitimate is a huge risk. Stay safe by only gambling on referred casinos that have been verified as safe and legal.
How Do Players Know If An Online Casino Has Fair Games?
Legal online casinos tend to have honest games as they are regularly audited by testing agencies to ensure their games are fair, as required by the international gaming regulators. Testing agencies look to see if the online casino is using Random Number Generators to generate game results, these RNGs must produce totally random numbers with no foreseeable pattern.
Not only that, testing agencies certify that the online casino is complying with fair gaming standards set by the international gaming community. Upon passing an audit, legal online casinos display their certificates on their site for all to see. Players who read these on a gaming destination before they gamble will be certain that they are playing at a site that hosts fair games.
Can Iowa Players 18 And Over Access Any Online Casino?
No. Not every online casino is accessible to IA players 18 and over. This is because most international online casino brands do not host games for US players due to disagreements in gaming regulations. Most online brands do not want to enter the web of red-tape the US gaming market has set for them and therefore opt to not serve such a large market.
However, the few that do meet US gaming requirements tend to only have one of either restriction: require all players to be at least 21 or not serve certain states within the United States. Thankfully, we have already sifted through various online gaming destinations to bring a refined list of available online casinos for IA players that are at least eighteen.
Can Iowa Players Participate On Any Sportsbooks Or Poker Sites?
Hawkeye State players aged at least eighteen or older may thoroughly participate in these provided sources of legal poker and sports betting. These three sites include on their platform their own casino games and provide substantial bonuses to first-time players and game-specific promotions. The list provided earlier in this guide also contains brands that have their own poker and sports betting offers as well, while these featured below are specifically specialized for the two.
Bovada Sportsbook – 50% Bonus Max $250
Betonline Sportsbook – 50% Bonus Max $2,500
Sportsbetting.ag – 75% Bonus Max $1,000
Helpful Resources For Iowa Gamblers