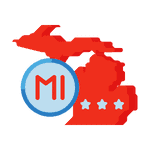 The Wolverine State is one of twelve states in the US that permit 18+ casinos and in this guide, we delve into Michigan 18+ casinos, MI gambling laws, the state's minimum gambling age, and various gambling laws.
While the legal gambling age in Michigan is eighteen, commercial casinos require players to be at least twenty-one. Michigan's tribal casinos may permit players that are eighteen and older to participate in their games but some may ask that players be at least twenty-one, as it is up to the individual tribal casinos' discretion.
The Wolverine State offers a wide variety of gambling entertainment including 12 tribal communities that offer casinos, 3 commercial casinos located in Detroit, on-track pari-mutuel wagering and on track simulcasting horse races, the state's lottery, recreational card playing, bingo, millionaire parties, bowling tournaments, and poker rooms.
In order to assist Michigan residents and out-of-town visitors we have built this page to provide specific information on 18 and over casinos and gambling. Thankfully, players who are eighteen and over can enjoy playing real money games in the Wolverine State's casinos without prosecution. Here we provide up-to-date information on current legislation and 18+ casino laws. We are driven to provide accurate information to our readers, this way they can make informed decisions on their choice of gambling entertainment.
Can You Legally Gamble At 18 In Michigan?
Yes, MI residents and visitors can legally gamble at the age of eighteen, however, local Michigan casinos require players to be at least 21 or risk violating Michigan state law. While Michigan is one of the few states that permit eighteen plus casino gambling, this minimum age requirement applies to tribal casinos only, which can still require some players to be at least 21 years old if they so choose.
If you are visiting a tribal casino and are unsure of their age restrictions, we suggest that you look at their requirements on the casino's website or call ahead. Because each casino has the authority to establish their own policies regarding age requirements, it is always best to confirm the rules prior to entering the property.  As mentioned before, MI permits eighteen-year-olds to participate in other forms of gambling including Michigan's state lottery, horse racing, and tribal casino games that permit eighteen year olds on the premises.
Is It Legal To Gamble Online In Michigan?
MI permits legal land-based casino gambling, however, the state has gone back and forth on its stance regarding various online gambling issues and is currently considered by some to be in the "grey zone". In 1999, MI lawmakers passed a law that forbids its residents from gambling online. However, a few months later the law was repealed and since then there has been no structured language explicitly forbidding or condoning online gambling.
As per this writing, senators in Michigan had put together a bill to move forward on legalizing state-based online gambling in early March of 2017; meaning, Michigan could potentially join the three current states in the US that offer their own state-based online gambling. While gambling has proven its acceptance, popularity, and profitability to Michigan some lawmakers, protest groups, and even tribal casinos have made it known that they do not want this bill passed.
At this time, there has been no update to Michigan's stance on state-based online gambling. Players may continue to play at legal online offshore gambling sites without fear of being prosecuted, but may look forward to potentially legal Michigan-based online gambling.
Most Reputable 18+ Online Casinos For Michigan Players In 2023
We provide Michigan players with a source of reliable, safe, and secure online gaming platforms. This list of leading online casinos accepts players from Michigan and the entire US. All of the online casinos recommended are legitimately licensed, verified, and regulated by the international gambling industry.
These casinos operate outside of the United States, thus ensuring you are not personally breaking any laws. The list of brands here underwent intense research and reviewal process which deemed them to be extremely secure while offering the highest-quality service and performance, as well as, multiple banking options, and excellent customer service.
What Michigan Casinos Are 18 and Up?
Some Michigan tribal casinos allow 18-year-olds to gamble within their venues, however, commercial casinos restrict access to these games to those who are at least 21 years old. In addition, MI players who are 18 can play at offshore online casinos found within this guide.
Legal Land-Based Gambling Options In MI
Michigan residents have a variety of legal brick-and-mortar gambling options available to them including but not limited to horse racing, bingo, raffles, poker rooms, millionaire parties, and recreational card playing. Michigan also provides its of age players with class III tribal casinos, which are Vegas-styled and host their own games.
Here we provide a shortlist of 18+ tribal casinos:
An Explanation Of The Legal Gambling Age At Michigan Land Based Casinos
The Wolverine State allows its residents to begin gambling at the age of eighteen, however, this minimum requirement holds for individuals participating in pari-mutuel horse racing, Michigan's state lotto, and most tribal casinos. Michigan's gaming board explicitly prohibits its residents who are under 21 from participating in casino games and wagers outside of tribal casinos. Legally speaking, an individual under 21 is permitted to walk into a tribal casino that permits players eighteen and above and gamble, but the same individual under 21 cannot walk into Michigan's commercial casino and play at all.
Tribal casinos have the option to require players to be at least 21 in order to participate in real money gambling entertainment, but most of the properties permit eighteen-year-old players. This is because tribal casinos are exempt from being regulated under state laws and state gaming authorities as they have their own tribal gaming boards.
Each individual casino can establish its own policy regarding age requirements, as long as they do not allow minors to enter the casino. The few tribal casinos that ask players to be at least 21-years old serve alcoholic beverages and thus establish an internal policy that requires players to be twenty-one to enter and participate in their games. Surprisingly enough, two tribal communities ask the handful of casinos under their jurisdiction to require gamblers to be 19 or older.
18+ Online Casinos For Michigan Players
Michigan residents can enjoy legal online casino gambling from their laptop or mobile device from one of the legally sanctioned offshore casinos. The state of Michigan does not ban legal online offshore gambling for its residents and thus players of age can legally play real-money games on offshore servers. These recommended brands offer games such as slots, video poker, roulette, baccarat, blackjack and more.
FAQs – From Michigan Players
What Is Michigan's Minimum Gambling Age?
Michigan's minimum gambling age varies per game, as discussed earlier on this page. In Michigan, 18-year-olds can play the state lottery, engage in parimutuel betting on horses, and access tribal casinos that allow 18+ patrons. However, some Michigan tribal casinos require players to be at least 21 if they are serving alcohol on their premises.
Is Gambling Online Safe For Michigan Players?
Your online gambling experience is only as safe as its source. This is one reason that resources such as this website are so important. This guide is designed to direct players to secure, safe, and verified online gambling sources so that you don't mistakenly land at a questionable, low quality or predatory destination.
The online casinos we recommend all operate legitimately and have current credentials, licensing, and certifications. These sites are subjected to strict regulatory oversight and utilize sophisticated technology. The security software used on these recommended sites goes well beyond industry standards and minimal licensing requirements by including advanced SSL data encryption, antivirus and firewall protection, as well as, anti-fraud software.
Are The Casino Games Offered Online Fair?
Online casino games are always fair when playing at a licensed and regulated casino destination that adheres to licensing requirements and compliance certification standards.  When operating properly, RNG technology ensures true randomness in every game. This technology is the same used in gaming machines in Las Vegas.
The sites featured here can verify their RNG software and clearly comply with fair gaming practices. This guarantees that any games you play on these recommended sites have been verified and are fair.
Do All Casinos Operating Online Accept Michigan Players?
The online casinos listed on this page accept Michigan residents over eighteen, however, we cannot speak for those destinations that are not included in our recommended brands. There are online casinos that do not accept customers from the United States.  These policies are presented at the discretion of the gambling site and are allowed as long as they do not provide services to players younger than eighteen.
Can MI Residents Play Casino Games On Their Phone?
Yes absolutely, the online casinos recommended here have all integrated their systems to be optimized for mobile usage. You may manage your account, play games, make deposits, and withdraw winnings straight from your phone. These mobile casino apps utilize the same responsive technology as a desktop to ensure functionality and compatibility across a wide range of devices, systems, and mobile networks.
Do Any Poker Or Sports Betting Sites Allow Michigan Players 18 And Older To Legally Gamble?
Several premium online gambling sites accept players from Michigan and the US that are eighteen and older. These online casinos also offer a variety of gambling options such as sports betting and poker games. These 3 sites all welcome Michigan residents.
Bovada Sportsbook – 50% Bonus Max $250
Betonline Sportsbook – 50% Bonus Max $2,500
Sportsbetting.ag – 75% Bonus Max $1,000
Helpful Resources For Gamblers Living In Michigan