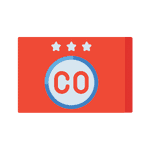 This guide provides information for Colorado residents interested in learning more about the forms of gambling entertainment available in the state. We will discuss various CO gambling laws, accessible Colorado 18+ casinos, and Colorado's minimum gambling age requirements. Casino games as we know them today were first introduced by French, Irish, Spanish, and English immigrants that traveled up through the Mississippi river before the civil war.
Many states were influenced by immigrants bringing card games and now multiple states in the US offer 18+ casinos. Colorado is a hotspot destination for casino gambling, offering 40 casinos in the Centennial State, as well as, offering its residents and guests pari-mutuel wagering on horse races, bingo, raffles, various card rooms, and the ability to participate in the state's lottery.
The Centennial state does not ban its residents from gambling online at legally sanctioned and legitimately regulated online casinos, therefore CO residents can participate in 18+ online casinos and play real money games without fear.
We hope to serve as a valuable resource for Colorado residents and visitors interested in responsible and legally sanctioned gambling entertainment options. Our team is focused on ensuring that the facts you find here will always reflect the most current and up to date information relevant to Colorado's gambling environment.  Our presentation of the facts as we see them is based on decades of experience in the industry as both gamblers and industry insiders.
Can You Legally Gamble At 18 in Colorado?
CO residents who are at least eighteen years old may enjoy gambling options such as betting on horse races, playing the Colorado state lotto, and participating in online and offline bingo games. To participate in casinos tables games and card games, players must be at least twenty-one years old as stated by Colorado law.
However, CO players that are eighteen may also enjoy gambling on legally sanctioned online casinos that offer games like poker, baccarat, blackjack, craps, and more. If you would like to read over and fully understand 18+ casino legislation, we crafted a page just for that.
Is It Legal To Gamble Online In Colorado?
The Centennial State does not specifically prohibit its residents from legal online gambling in its state gambling laws. CO residents can freely gamble at online casinos without fear of prosecution. Colorado has not shown interest in outlawing legal online gambling, which makes it legal for CO players eighteen years old and older to play at legitimate online casinos operating legally offshore. Players can legally gamble, so long as residents are at least eighteen, and not playing on state-based gambling sites, or illegal offshore online casinos.
Most Reputable 18+ Online Casinos For Colorado Players In 2023
We hope Colorado players obey their state's minimum gambling age requirements, specifically for casino games, which for CO residents is 21 years old. Most legal online gambling sites accept players from Colorado that are at least eighteen years old and permit them to play real money games. We provide a list of approved and secure online offshore casinos that accept players eighteen and older.
Our team of professionals reviewed each site listed and has deemed them to be legal, safe, and reliable sources of gambling entertainment. The online casinos offered here are located outside of the United States and are regulated by legitimate jurisdictions and the international gaming industry, making them perfectly legal for CO players eighteen plus to participate in.
What Colorado Casinos Are 18 and Up?
CO offers its residents and guests a wide range of land-based offline gaming options. Players that are eighteen or older may engage in pari-mutuel wagering on horse races, bingo games, and the Colorado state lotto. To participate in casino table games, card games, poker, and slot machines players must be at least 21 years old. Therefore, CO has no true 18+ casinos which allow eighteen year olds access to casino games.
Either way, here is a brief list of brick and mortar CO gaming entertainment options:
Mile High Racing & Entertainment
South Colorado Gaming & Events Center
Arapahoe Park
Centennial Park
Memorial park
Pikes Peak Meadows
Colorado Horse Track
Sky Ute Casino
Ute Mountain Casino
Ameristar Casino & Resort
Isle Casino
Golden Gates Casino
Ladyluck Tower
18+ Online Casinos For Colorado Residents
Centennial State residents may participate in online gambling sites that are legally sanctioned and licensed by legitimate regulatory authorities and jurisdictions. This guide is intended to be used to help players find verified, safe, and secure legal online casino gambling options.
These brands are deemed to be verified and legal while offering the highest-quality gaming experience, protection, and a variety of banking options. These online sites offer players eighteen and over a wider array of games like craps, roulette, baccarat, blackjack, and more.
FAQs – For CO Residents
What Is Colorado's Minimum Legal Gambling Age?
Colorado offers several gambling forms by access to them varies by age. As mentioned above, Colorado residents and state visitors who are eighteen can play the state lottery, enjoy bingo games, and betting on horses. However, for casino table games and card games, Colorado has a minimum gambling age set at 21.
Can Colorado Residents Safely Gamble Online?
Colorado residents may gamble safely on the recommended list of online casinos that are deemed legal, secure, and verified by our team of analysts and professionals. Each online gambling site listed here utilizes advanced security protocols to protect players from viruses and fraud by integrating firewalls, data encryption, and identity theft prevention technology, as well as, employing a team of specialized technicians who monitor systems 24/7.
Online Gambling Games: Are They Always Fair?
Absolutely not. Only sites that can all verify their RNG software and compliance with fair gaming practices can guarantee fairness. RNG stands for random number generator and when employed and functioning properly, ensures genuine randomness. All of the brands listed here use this technology. We recommend the online casinos featured here because they are verified to hold legitimate compliance certifications for their RNG technology and fair gaming practices, and offer the highest-quality gaming experience.
Do All Online Gambling Sites Accept 18+ Colorado Players And Let Them Play Real Money Games?
While nearly every online casino accepts players eighteen and older, not all legal online casinos are American friendly, which can mean not every legal online casino will accept players from CO. The brands we mention on this page welcome US players from Colorado and most of the states within the United States. The list may not be long, but it does represent the top-rated options the industry has to offer. We are much more interested in quality than we are quantity.
Can CO Residents Play Real Money Games At Mobile Casinos?
Yes, Colorado players may play casino games on their phone as by using optimized mobile versions of the online casinos available as web-based applications. You can perform the same types of account management as you can from your computer, including funding your account, processing transactions, and playing games.
These mobile apps utilize responsive technology to ensure cross-brand compatibility. This technology instantly detects device specifications and renders an interface suited for viewing on most devices. In most cases, there is no download required and those that do require downloading hardly take up any storage space.
Do Any Sportsbook Sites Or Poker Sites Permit 18+ Colorado Players To Play, Legally?
Yes, the sites listed here all accept 18+ Colorado players and offer a wide variety of poker games and sports betting options. The three sites below offer bonuses to players interested in playing their real money games.
Bovada Sportsbook – 50% Bonus Max $250
Betonline Sportsbook – 50% Bonus Max $2,500
Sportsbetting.ag – 75% Bonus Max $1,000
Helpful Resources For CO Gamblers
Please contact the Problem Gambling Coalition of Colorado if you or someone you know is struggling with problem gambling.
Reach the Colorado Division of Gaming to read more about gambling laws and industry statistics.