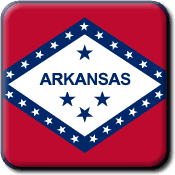 This page was created to serve as a guide for Arkansas residents interested in learning their state's available gambling options, including Arkansas 18+ casinos. We will explain various gambling laws in Arkansas and available offline and online US 18+ casinos.
Arkansas's gambling scene originally began as a pool of infamous mob characters, and then called card sharps, that would come together at AR's Hot Springs, which some would say rivaled Nevada's Las Vegas and even Atlantic City in New Jersey.
After being shut down in 1967, residents and out-of-state visitors have enjoyed Arkansas's other gaming entertainment including pari-mutuel (pooled) wagering on horse and dog races, playing the state's scholarship lottery, charitable games (like raffles and bingo), and enjoying various electronic games like video poker, video blackjack, and video slots. The Natural State does not prohibit residents from gambling online at legally sanctioned offshore casinos, therefore AR residents can enjoy participating in real money games.
This guide was created to help direct Arkansas residents and out-of-state visitors concerning various available gambling options, so individuals can choose gambling entertainment they would like to be involved in. We are committed to developing a resource guide that is always accurate and up to date so that our visitors can feel confident that they are accessing relevant industry information concerning the current gambling market in Arkansas.
Can You Legally Gamble At 18 In Arkansas?
AR residents who are eighteen years and older may participate in pari-mutuel wagering during horse and greyhound races. Gamblers that are at least eighteen years old may also enjoy a variety of Arkansas's bingo halls, buy raffles, and the Arkansas lottery. Arkansas has differing minimum age requirements based on varying gambling options.
For instance, to participate in sports betting, casino games, or electronic games gamblers must be at least 21. This means in order to bet on sports, play slots, video poker, and blackjack Arkansas-based gamblers must wait until they turn 21 years old to partake. To understand 18+ casino laws we dedicated a page specifically to address this.
Is It Legal To Gamble Online In Arkansas?
The Natural State does not explicitly ban its residents from playing real money games at legally sanctioned online casinos that are based offshore. Unlike Washington, which has created a law to restrict its residents from playing any form of internet gambling, Arkansas is not interested in prohibiting online gambling from its residents. Meaning it is perfectly legal for AR players to gamble at reputable online casinos operating legally outside of the United States.
Players that are at least eighteen years old are considered safe from prosecution so long as they are only participating in legally licensed online gambling sites that are offshore. It is not legal at this time to own or operate an online gambling site of any kind within Arkansas state borders.
Most Reputable 18+ Online Casinos For Arkansas Players In 2023
We encourage Arkansas players to adhere to their state's minimum age requirements on casino gambling, which is 21 for Arkansas residents. Nevertheless, there are many legal online gambling sites that accept players as young as eighteen years old to participate in their real money games. Some online casinos may require their gamblers to be at least 21 years old or simply not accept US players at all, which is why we suggest sticking to our list of approved and verified online casinos – which all accept Arkansas players who are eighteen or over.
We offer AR gamblers a source of legal, reputable, and secure online gambling options. All of the casinos provided here are located outside of the United States and are the subject of legitimate industry regulation, making them perfectly legal for Arkansas residents. Our team of analysts suggests these online gambling brands after thoroughly vetting each site for high-security standards, quality levels, and performance.
What Arkansas Casinos Are 18 and Up?
AR provides its residents with a wide array of land-based gambling options and locations. Players that are at least 18 may participate in pooled wagering on horse and greyhound races at Oaklawn Park and Southland Park, play at various bingo halls, as well as, enter any grocery or convenience store location to purchase a lottery ticket.
Players who would like to try their hand at sports betting, video poker, video blackjack, or electronic slots must be at least 21 years of age. There are also various states within the US that offer 18+ casinos and include various table and card games.
Here is a brief list of land-based gambling options:
Charity Bingo
Ark Vets Bingo
Little Rock Bingo
Oaklawn Park Horse Racing & Gaming
Southland Park Gaming & Racing
18+ Online Casinos For Arkansas Gamblers
Natural State residents may engage in online gambling so long as they gamble on legally licensed and legitimately regulated sites. Players who have celebrated their eighteenth birthday can play real money games legally on various verified online sites.
This guide provides a list of recommended and personally vetted legal online casinos. These brands were deemed to be safe and secure gambling entertainment options for Arkansas residents and offer a wider variety of games through their online interface, including craps, roulette, baccarat, blackjack, poker, and more.
FAQs – From Arkansas Residents
What's The Minimum Legal Gambling Age In Arkansas?
As stated earlier, Arkansas's minimum gambling age varies for different gambling activities. State residents and visitors who are at least 18 years of age can enjoy bingo, raffles, the state lottery, and pari-mutuel wagering on horse and dog races. However, gambling patrons must be at least 21 years old to participate in sports betting, casino gambling games or play on electronic gaming machines including slots, video poker, and blackjack.
Is Online Gambling Safe for Arkansas Residents?
The online casinos recommended here are safe, legal, and secure. We only recommend offshore casino operators that are legitimately recognized and legally regulated by the proper international gaming industry. The sites listed here all utilize a security profile that protects players from viruses and fraud by providing firewalls, data encryption, and protection technology. These sites also employ a specialized team of technicians who monitor their systems 24/7.
Are Online Gambling Games Fair?
Not all online games are fair. Only those games provided by legally sanctioned online casinos are fair due to the fact that they are able to verify their RNG technology compliance (the acronym stands for Random Number Generator) adheres to industry safety standards and legal fair gaming practices.
RNGs ensure genuine and total randomness to a game's results. The online casinos featured here are all compliance certified, which means their RNG software and gaming practices have all been audited by reputable 3rd party agencies.
Do All Online Casinos Accept Arkansas Players And Let Them Play Real Money Games?
The majority of online casinos are 18+. A fewer number of select online casinos accept players from Arkansas and the US in general. Not all online casinos are US friendly and not all online casinos will allow players from AR to partake in their real money games. However, the sites you see listed on this page all welcome Arkansas players, so you'll have no issues accessing the services provided by these destinations.
Can Arkansas Gamblers Access Mobile Casinos?
Yes, Arkansas players may play real money casino games on a mobile casino application. Every online casino listed here has integrated a mobile app that is web-based, and in most cases, with no download required. Online casino apps are compatible and responsive across a wide array of devices, mobile carriers, and operating systems. Mobile users can play games on their phones, manage their accounts, and deposit and withdraw money all from one application.
Do Any Sports Betting Sites Or Poker Sites Allow Arkansas Players Over 18 To Legally Play?
Most legal online gambling sites accept Arkansas players that are 18 and older. Below you will see three sites listed, which all offer a variety of gaming and betting options while also providing exclusive bonuses. These sites all welcome Arkansas players that wish to play real money games.
Bovada Sportsbook – 50% Bonus Max $250
Betonline Sportsbook – 50% Bonus Max $2,500
Sportsbetting.ag – 75% Bonus Max $1,000
Helpful Resources
Have a problem gambling? Reach out to the National Council On Problem Gambling – Arkansas
Need to reach the Arkansas Gaming Commission?