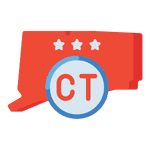 We present this guide to provide Connecticut residents with information on available CT gambling entertainment options, as well as, discuss various gambling laws in the Constitution State, the differing minimum gambling ages, and accessible Connecticut 18+ casinos.
The state has always been considered a rather conservative region when it comes to gambling; however, nowadays CT residents and its guests may participate in pari-mutuel wagering on greyhound races on and off-track, jai alai, casino gambling, charitable gambling (which includes bingo, raffles, duck races, and frog races), sports betting, and the state's lotto.
The gambling market in Connecticut has evolved over the years, as have the state's gambling laws. While progression is usually good, it can also be somewhat confusing. Our objective for developing this guide is to provide insight into the legally sanctioned gambling entertainment opportunities available in the Constitution State and how they are relevant to eighteen plus players.
We will discuss the various forms of gambling that are permitted in the state, as well as legitimate 18+ online casinos that are licensed and regulated offshore and are legally providing gambling services to players in the United States, including those living in Connecticut. For more information about the legalities relevant 18+ casino gambling in the US, please visit our page covering 18+ gambling laws in the US.
Can You Legally Gamble At 18 In Connecticut?
CT residents may legally gamble at the ripe age of eighteen, however, the types of gambling these players may engage in differ based on the venue. Of age players may participate in off-track or on-track pari-mutuel betting, dog races, as well as, purchase a state lottery ticket, play at local bingo parlors, and engage in social and charitable gambling.
The state of CT does require gamblers to be at least 21 years of age to play at any of the Constitution State's tribal casinos, which means players must be 21 to play any electronic or live table games or gaming machines such as slots. However, there remain multiple states in the US that allow 18+ casinos and permit players to enjoy table games and other offers at the age of eighteen.
Despite the minimum age requirements for casino gambling in CT, residents who are eighteen do still have some options. Legally sanctioned online casinos operating offshore typically accept players as young as eighteen and allow them to play the full range of games on their menu, including slots, blackjack, roulette, video poker and more. These online gambling destinations are legal for players in the state as long as they are licensed and regulated offshore.
Is It Legal To Gamble Online In Connecticut?
There are currently no federal gambling laws that prevent CT residents from gambling online. Recently the state has passed gambling laws that will allow online gambling from domestic sites. Because offshore online casinos are not subject to US law, many still accept players from CT, expecting their customers to adhere to relevant gambling laws imposed within their legal jurisdiction.
Most Reputable 18+ Online Casinos For Connecticut Players In 2023
Following are our recommendations for reputable, secure and high-quality online casinos that accept players from Connecticut. We have placed each of these sites through a rigorous review process that evaluates hundreds of elements relevant to their legitimacy, quality, and reliability.
We approach our examination of these sites from both a player perspective and as industry professionals. These sites enjoy strong reputations throughout the online gambling community and are all legitimately licensed (or are owned and operated by a parent company that is), regulated, and possess compliance certifications for fair gaming practices. They each utilize a security profile that exceeds minimum licensing requirements and general industry standards. We can recommend each of these sites without hesitation.
Understanding Connecticut's Minimum Gambling Age
The Constitution State has varying age requirements relevant to different forms of gambling entertainment. For instance, players must be of age or older in order to participate in pari-mutuel jai alai betting, and greyhound race on-track or off-track pooled wagering.
Eighteen-year-old players may also purchase CT lotteries and enter any of the state's bingo parlors to play, as well as, engage in other charitable gambling which includes raffles, duck races, and frog races. However, players must be at least 21 to legally engage in casino gambling, poker tournaments, and various electronic gaming machines.
What Connecticut Casinos Are 18 and Up?
Connecticut does not offer true 18+ casinos for eighteen-year-olds to enjoy, rather players must be 21 to gamble at a CT casino. However, below we have a shortlist of land-based or offline CT gaming options:
Shoreline Star Greyhound Park
Sleeping Giant Bingo
Foxwoods Resort Casino
Mohegan Sun
Brief History Of CT Gambling Laws
As a conservative state, the region has seen many changes to its laws and stance regarding gambling. Usually, for religious and moral reasons, gambling was often out-casted from states who felt gambling benefited from the weak-minded, thus labeled it as a sin and harmful to their way of life.
Throughout the past 100 years, the Constitution State has slowly chipped away at the evil image that was long associated with gambling during the late 1800s and even the state's issue with mobsters and illegal gambling during the 1950s and '60s.
The Mafia became a huge influence in the state due to prohibition, and later after prohibition ended, the mob then dominated the illegal gambling market by running their own lottery.
In 1983, Connecticut began running its state lottery and forced a decline in illegal lotto gambling from the Mafia.
In 1986, Foxwoods first opened as a bingo room.
By 1992, Foxwoods added casino table games.
And in addition to table games, Foxwoods added slot machines to their casino.
The profitability of casinos skyrockets and in 1996 Mohegan Sun opens.
In 2008, MGM Grand expands a casino tower at Foxwoods.
18+ Online Casinos For Connecticut Residents
Legally sanctioned and legitimately regulated online casinos offer a wide variety of gaming options to Connecticut players eighteen and over. Games include but are not limited to poker, roulette, blackjack, and craps.
FAQs – From Connecticut Players
What Is The Minimum Legal Gambling Age in CT?
As discussed earlier, Connecticut's minimum gambling age allows 18-year-olds access to pari-mutuel betting on horse and dog races at racetracks and at off the track betting facilities, otherwise known as OTBs dog races, play bingo, the lottery, and enjoy social and charitable gambling. Residents and visitors at least 21, however, can enjoy casino gambling, gaming machines, and electronic and live table games.
Is It Safe To Gamble Online?
Yes, as long as players visit only legally sanctioned and legitimately regulated online casino destinations. This page should help direct players that are old enough to safe, verified, and secure legal online casinos. The brands provided here all operate using state-of-the-art software and security technology to protect their players and ensure the best gaming experience.
Online Gambling: Are The Games Fair?
Most are indeed fair, while others are not. This is because some online casinos are legitimate, while others are not. Legitimate online gambling sites usually operate using RNG technology and comply with fair gaming practices to guarantee fairness. RNG stands for Random Number Generator and all legal online casino games employ this technology to ensure genuine results, i.e. total number randomness.
RNGs are used in land-based casinos in Nevada and deliver an authentic gaming experience, no tricks here. All of the online casinos listed on this page are compliance certified by third-party agencies, meet their licensing requirements and exceed minimum industry standards, as well as, employ effective software solutions and additional fairness protocols.
Do All Online Casinos Accept Connecticut Players?
All of the online casinos featured on this page do indeed accept players who are from Connecticut and as young as eighteen. Most online casinos operating across the world wide web will accept players who are old enough. What sets these casino brands a little bit apart from the crowd is the fact that they are US friendly and will each accept players from the United States, including those from Connecticut. There are a limited number of online casinos that engage in the US gambling market, so no, we cannot tell you that all online casinos will welcome players from the USA.
Can Connecticut Players 18 Plus Play Online On Their Phone?
Yes, players eighteen and older have access to mobile casino applications. These applications are web-based, mobile versions of their online desktop platform and supports similar if not identical functionality. Players may manage their accounts, deposits or withdraw money, and play casino games from their preferred device.
The responsive technology built into these web-based apps makes rendering a compatible interface on any device easy and doable. This means any smartphone or tablet, no matter the carrier and whether it operates under iOS, Android, or Windows, is supported by these mobile casino apps. Most of the time, downloading is not required, however, the few that do require such take up minimal storage space in said devices.
Do Any Poker Sites Or Sportsbooking Sites Permit 18+ Connecticut Players?
Not every online gaming destination accepts eighteen-year old players from Connecticut, but there are several that do. Here we offer three sites that provide players with bonuses, and multiple gaming and betting options. The sites listed below all welcome US players who are eighteen and older to play real-money games.
Bovada Sportsbook – 50% Bonus Max $250
Betonline Sportsbook – 50% Bonus Max $2,500
Sportsbetting.ag – 75% Bonus Max $1,000
Helpful Resources For CT Players