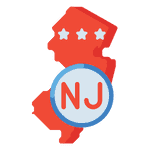 The Garden State was home to some of the least restrictive gambling laws in the US even before PASPA was repealed. When most hear of New Jersey, they think of a gambler's haven along the Boardwalk, which in the late 1980s nearly outshone even Nevada's Las Vegas.
Atlantic City is the only place in New Jersey that permits casinos and poker rooms, thus many have fought for their space usually through buying bankrupt casinos or striking deals and changing hands.
The Garden State had a wild and non-interventionist approach to gambling long before its prohibition era, which many historical experts commented never took place in areas like Atlantic City.  Due to heavy corruption and mob influence, New Jersey's Atlantic City remained unaffected by federal laws.  Well before prohibition, lotteries ran to fund wars and racetracks operated during bans.
While these operations were illegal at the time, Atlantic City has since changed and now offers legal forms of gambling. NJ locals can purchase state-run and multi-state lottery tickets, wager on thoroughbred races, participate in sponsored raffles, bingo, pull-tabs, casino nights, and more if the proceeds go to charities, and gamble at Atlantic City's numerous casinos, sportsbooks, poker rooms, and through NJ's iGaming platform.
Occupants of the Garden State and their guests may enjoy all of the legal gambling entertainment that NJ presents and utilize this state-focused guide to decide which options they would like to participate in. While we cover NJ gambling laws and legislative history in simple terms, we have also dedicated a section of our guide to explaining US 18+ casino laws from a federal perspective as well.
Can You Gamble At 18 In New Jersey In 2023?
New Jersey's casinos are entirely commercial facilities, as there are no tribal casinos permitted within the state's borders. At one time, NJ featured liberal gaming laws that allowed for 18+ gamblers to participate in casino games for real money, but that changed in 1983. Currently, NJ does not allow eighteen-year-old players to enter their casinos or poker rooms.
However, many states do not restrict young players from casino gambling therefore we created a page to showcase US states that allow 18+ casinos. Although younger players cannot enjoy Atlantic City's casinos, the state of New Jersey offers other gaming options for young adults between 18-20, which include horse betting, charitable gambling, and lottery purchases.
Casinos, poker rooms, and online gaming remain restricted to players that meet the minimum age criteria of twenty-one. There are some offshore online casinos that do accept 18-year-old players, though no reputable overseas bookmaker or gambling house currently accepts NJ residents. Additionally, we do not recommend the use of VPN services to get around this restriction, as this can lead to account closure and funds forfeiture. If you live in NJ, you should use only domestic online gambling and sports betting options.
Is It Legal To Gamble Online In New Jersey?
New Jersey legalized state-regulated online gaming in 2013 and provided platforms that served casino games and poker tournaments. New Jersey even entered a tri-state compact with Delaware and Nevada in 2017 to share their player pools, expand their progressive jackpots, and more.
Players must be at least 21 to participate in NJ's iGaming platform which restricts younger gamblers from accessing casino and poker games. However, visitors to the Garden State may gamble on NJ's iGaming hosted sites if they are 21 or older, and they simply need to be physically present in New Jersey to do so.
New Jersey has not legally prohibited offshore online gambling, however, lawmakers have convinced most of the reputable online casinos to voluntarily refuse to provide their services to players in the Garden State.
New Jersey's Minimum Gambling Ages
NJ has two minimum gambling age requirements which vary based on the games in question. Players as young as 18 may participate in pari-mutuel wagering on horse races on-track or off-track at licensed betting locations, engage in charity gambling by playing bingo, pull-tabs, lotteries, casino nights, and raffles, and purchase any of NJ's state-run lottery tickets or go up against other state players in larger multi-state lotteries like Mega Millions, Power-ball, and more.
Players that are 21 and older may enter and gamble at casinos and play multiple specialty games, tables games, slots, poker, and bet at sportsbooks. Players that are old enough may also enter poker tournaments and even play online games using NJ's iGaming platform.
What New Jersey Casinos Are 18 and Up?
No New Jersey gambling venues are true 18+ casinos since players must be at least 21 years old in order to gamble at NJ land-based casinos. However, NJ young adults can gamble at offshore online casinos at age 18 while outside of state lines.
Legal Land-Based Casinos & Race Tracks In NJ
Atlantic City contains most of NJ's gaming entertainment. However, there are racetracks, bingo halls, and lottery depots throughout the state. Provided below is a list of available land-based casinos and gambling houses within the Garden State.
Golden Nugget Atlantic City Hotel, Casino & Marina
Tropicana
Resorts Casino Hotel
Borgata Casino & Spa
Caesars Atlantic City Casino
Harrah's Atlantic City Casino
Bally's Atlantic City Casino
Bally's Wild Wild West Casino
Ocean Casino Resort
Hard Rock Hotel & Casino Atlantic City
Monmouth Park Racetrack
Freehold Raceway
Meadowlands Racetrack
Brief History Of New Jersey's Gambling Laws
Before the mid-1900s, games were held in speakeasies and illicit gambling dominated the Atlantic City Boardwalk. During this time, many mob figures dominated the town and corrupted local politicians. During the dry period in the US where liquor was unavailable, Atlantic City seemed to have it all.
The big boss at the time, 'Nucky' Johnson, publicly boasted about the illegal demand and supply of booze, women, and games, dubbing AC "The World's Playground." Eventually, of course, Nucky's reign fell, and NJ began running its own legal gaming efforts. This previous depiction contrasts with the present-day Garden State, which hosts legal races on historic tracks and is home to many notable gaming destinations.
New Jersey Gambling Timeline:
In the early 1800s, civilians regularly purchased raffle-like lottery tickets and funds would go toward public building projects.
In 1844, these lotteries were banned due to various scandals.
By 1897, all types of gaming were outlawed. This drove gamblers to seek underground gaming circuits and participate under the rule of criminal figures.
Through the early 1900s, mafia families grew as law enforcement turned a blind eye and lacked the power to keep them down.
In 1911, 'Nucky' Johnson controlled Atlantic City. He was untouchable and defied Sunday liquor laws and then prohibition laws. This lasted until 1941 when he was arrested for tax evasion.
In 1939, NJ understood its tight grip forced illegal bets and gambling to flourish, therefore they became more lenient with their laws and relaxed them by legalizing pooled bets on horse races.
By 1954, NJ once again relaxed and legalized charity gambling.
In 1970, a majority of voters approved of the creation of a state-run lottery.
In 1974, voters were asked if they would like casinos within their state. Many of them did not want casinos due to fears of organized crime and violence occurring again on a larger scale.
Two years later in 1976, the proposal was rewritten to only build casinos within Atlantic City. Voters approved of the bill.
In 1978, The Resorts Atlantic City opened, and NJ became the 2nd state to have a legal casino.
Many were concerned over the issue of underage drinking in casinos, and in 1983, the House and Senate ruled that the casino minimum gambling age be raised from 18 to 21.
By 2011, a bill was created to legalize online gambling. This bill died.
However, in 2013, a new bill was introduced and signed to legalize online casino and poker games.
NJ had been the in midst of a legal battle with major sports leagues since 2011, over the constitutional right to allow sports betting and repeal PASPA. NJ challenged the NCAA in the Supreme Court, where PASPA was overturned in May 2018.
18+ Online Casinos For New Jersey Residents
NJ's state-regulated online gaming platform is vastly accessible to players who are located within the Garden State even without being a resident. However, the minimum age to gamble on either online casino games or online poker games remains to be 21 and is heavily enforced. Similarly, you must also be at least 21 in order to bet at online sportsbooks in NJ.
FAQs
What Is The Minimum Legal Gambling Age In New Jersey?
As discussed earlier, New Jersey's minimum gambling age varies based on the game selected. 18-year-olds can participate in pari-mutuel wagering on horses, charitable gambling, and the lottery. Residents and visitors must be 21 to enjoy casino gambling, poker gambling, and sports gambling. This 21-year-old minimum age also includes the state's online gambling platforms.
Is It Safe To Gamble Online In NJ?
It is only safe to gamble at legal online casinos and sportsbooks that are authorized by the state of New Jersey. This is due to the fact that legal casinos undergo heavy regulation, procedures, and audits to ensure fairness, player safety, and satisfaction.
While it used to be possible for NJ players aged 18+ to use offshore casinos and sportsbooks, no reputable international brand currently accepts NJ players. If you wish to gamble online in NJ, you will have to use domestically licensed and regulated options.
How Fair Are Online Casino Games?
Online games are only fair if the host of said games adhere to fair gaming practices. This means utilizing functional random number generators, which provide authentic results and randomness to guarantee truly fair gameplay.
Legal online gaming sites have been audited and tested by the appropriate authorities to determine compliance and fairness, sites that pass this proudly display their accreditation on their casino page. Gaming platforms that are not transparent of their audits, certificates, and licenses should be avoided.
Do All Offshore Gaming Sites Accept New Jersey Players 18 And Over?
No reputable offshore gaming sites will allow New Jersey players to gamble on their sites at this time. This is due to certain compacts between NJ and online brands, like Bodog, that do not want to steal revenues from the Garden State's online gaming sites.
Recently, state officials have threatened to prosecute online sportsbooks for taking NJ customers without a state license. This caused many online casinos and sportsbooks to stop accepting NJ residents and focus on the other 49 states they accept players from.
Can New Jersey Residents Gamble On Their Mobile Phone?
Yes, all of the online gaming destinations we recommend have available mobile versions of their casinos. This means NJ players that are at least eighteen may log in to their casino account through their mobile browser and play real money games (provided they are physically located outside of state lines).
Thankfully, there is no device discrimination, as these mobile casinos utilize responsive technology that reads the user's screen and renders a perfectly fit and scaled gaming interface. Players can reload their accounts, play favorited games, and more from their preferred device, whether that's a mobile phone or tablet.
Helpful Resources For NJ Gamblers