Reviews Of Local Casinos In Michigan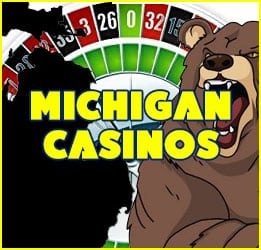 If you're looking for reviews of local casinos in Michigan, you've come to the right place. With over 20 tribal venues and three major commercial casinos in Detroit, there are plenty of casinos open in Michigan around the clock. And no matter where you live in the state, you're sure to find one near you. That's doubly true today, as Michigan online gambling (including Michigan online casino and Michigan online sports betting options) was legalized in December 2019, with sites going live at the end of 2020.
Of course, if you don't want to play at brick-and-mortar casino hotels in Michigan (or with their online iGaming products, as many are limited to players aged 21 and up), you don't have to. While the gambling age in Michigan is 18+ at some venues, this isn't the case at all locations, which can be a headache for younger players. Fortunately, you can enjoy 18 and up online casino gambling in Michigan with any of the most reputable international betting sites we recommend, though – if you can swing it – we always recommend taking a break from iGaming and hitting the felts in real life.
Does Michigan Have 18+ Casinos In 2023?
Yes! There are several 18-and-up casinos in Michigan, all of which are operated by the state's federally recognized Indian tribes. While there's a trio of major commercial casinos in the Detroit area, these are all limited to players aged 21+, and about half of the state's tribal venues have the same age requirement.
If you're under 21, however, you don't have to go far to play, even if an 18+ Michigan city casino is too far away from your city! All you really need to do is visit one of the online casinos in Michigan recommended here, as these sites all legally accept MI residents at 18 and up.
Commercial Casinos In Michigan
There are three commercial casinos in Michigan, all of which are located in and around Detroit. These require players to be at least 21 years of age before they can access the venues' gaming floors. In many other MI casinos, players only have to be 18 or older, but all commercial properties have 21+ age requirements.
If you're old enough and wish to gamble at casinos in Detroit, Michigan, all three facilities are owned and operated by well-established brands in the industry and offer all the typical amusements you expect.
MGM Grand Detroit – Detroit, MI
At the MGM Casino Detroit, Michigan gamblers have access to the most Vegas-like experience of any gambling house in the state. The property opened at a temporary locale in 1999 and moved into its permanent home in 2007. The 21-and-up venue boasts a 100,000-square-foot gaming floor, 2800 slot machines, 150 table games, and a dedicated tournament poker room. Other amenities include a 400-room luxury hotel tower, a 1200-seat theater, and several fine dining restaurants.
Michigan is also one of the few states with legal domestic iGaming, with the MGM Grand's BetMGM app being the most popular way to play for fans of the brand. Of course, you aren't limited to the MGM online casino. Michigan residents can also legally access reputable international online gambling sites, and the minimum age to play with such vendors is 18 instead of 21.
MotorCity Casino Hotel – Detroit, MI
The MotorCity Casino in Detroit is one of three commercial venues in the state, and it was opened in 1999. The gambling floor is 100,000 square feet, and there are 2800 slots, 60+ table games, and a massive convention center. The facility also includes a 2400-seat theater, a huge resort-style spa, and a 400-room high-class hotel. For those who want to gamble online, the MotorCity Casino features a branded real-money gambling app operated by FanDuel.
Of course, you can also play online casino games using any reputable international betting site, which means you won't have to wait until you're 21 before you can sign up and risk real cash. For players aged 18-20, offshore is the best option, and the games available with these services meet and exceed the variety and standards of domestic MI betting sites.

Greektown Casino-Hotel – Detroit, MI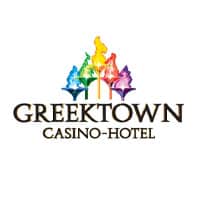 In 2000, the Greektown Casino in Detroit opened its doors as the flagship property of the Sault Ste. Marie Tribe of Chippewa Indians. However, in 2008, the tribe sold its Greektown interests to Vici Properties (partnered with Penn National Gaming), which now runs the 100,000-square-foot venue.
At the Greektown Detroit, players aged 21+ will find 3000+ slots, a large assortment of classic table games, and a popular tournament poker room. There's also a 400-room hotel on the property, as well as other typical resort amenities. However, the Greektown has not yet launched an Internet gambling platform, which means – to play real-money online casino games – you'll have to sign up with one of the trusted 18+ casino sites we recommend.

Indian Casinos In Michigan
There are over 20 operational tribal casinos in Michigan. These venues, which make up all the casinos in upper Michigan (and all the gambling venues outside of the Detroit area in the southeastern part of the state), are owned and operated by 12 different federally recognized Indian nations.
Whether you're gambling at casinos in the upper peninsula of Michigan, casinos in Northern Michigan, or casinos in central Michigan, the venues available to you are all of the Class III tribal variety, and most of them accept players at just 18 years of age. While these tribal gambling houses are scattered throughout the state, one look at any Michigan casino map will show you that there are ample destinations within driving distance of virtually any MI player.
You'll find casinos in Traverse City, Michigan, casinos in Grand Rapids, Michigan, casinos near Holland, Michigan, and even a casino in Battle Creek, Michigan, just to name a few. The following are 10 of the most highly regarded brick-and-mortar tribal casinos in MI:
Four Winds New Buffalo – New Buffalo Township, MI
Opened in 2007, the Four Winds Casino (New Buffalo, Michigan) was named in 2015 as one of USA Today's ten best US casinos outside of Las Vegas. This is the state's flagship tribal venue, boasting a 130,000-square-foot gaming floor, 3000+ slots, 60+ table games, several upscale restaurants, and a 415-room luxury hotel.
The Silver Creek Event Center rounds out the New Buffalo Michigan casino experience at the Four Winds, and the venue operates an online gaming website for real-money play. A dedicated Four Winds Casino app is coming soon, but you'll have to be at least 21 to play over the Internet. There are two other (smaller) Four Winds casino properties in Michigan, as well: the Four Winds Hartford and the Four Winds Dowagiac.
Soaring Eagle Casino & Resort – Mount Pleasant, MI
The Soaring Casino (Mount Pleasant, Michigan) first opened its doors in 1998, and it's one of the biggest Indian casinos in the state for 18 and up players. This Michigan resort casino features 210,000 square feet of gambling space, thousands of slots, dozens of table games, a poker room, and a bingo hall.
There's also a resort-style pool with an underwater sound system, the 3300-seat Entertainment Hall, and the Soaring Eagle Outdoor Arena with room for over 5000 fans for popular outdoor concerts and events. Unfortunately, there is currently no Soaring Eagle online casino, though that's allegedly in the works.

Island Resort & Casino – Harris, MI
Opened in 2000, the Island Resort Casino Michigan bills itself as the premier gambling destination in the Upper Peninsula, with countless slots and table games available to players aged 18 and older. The Island Showroom features regular acts from world-renowned entertainers, and the 320-room resort hotel offers amenities like the Drift Spa, an RV park, several restaurants, and the Island Resort Golf Course.
That said, there is no online MI casino currently operated by the venue, which means you can only play over the Internet at licensed and regulated international gambling sites.

Kewadin Casino, Hotel and Convention Center – Sault Ste. Marie, MI
First opened as a one-room blackjack house in 1984, the Kewadin Casino in Michigan has expanded into a larger venue with a 320-room hotel, an intimate gaming floor, a keno parlor, and attractions that bring in over 500,000 visitors each year.
The venue has all the slots and table games you expect, and it operates the WynnBet Michigan online gambling app for those who prefer to gamble on the go. Oddly, the minimum age to play at the Kewadin Michigan casino is 19, not 18. If you're 18, you'll have to gamble at one of the offshore venues listed here.

Little River Casino & Resort – Manistee, MI
The Little River Casino in Manistee is one of the smaller MI gaming venues, and players have been welcome at 18 and up since the venue's 1999 opening. The property features 300 hotel rooms, a fitness center and spa, indoor pools, a heated outdoor pool, and other resort-style amenities.
The Little River also offers online gambling via its BetRivers Michigan app, so you don't have to hit the retail gaming floor in order to gamble. Of course, if you do, you'll find over 1100 slot machines, classic table games, and live poker.

Bay Mills Resort & Casino – Brimley, MI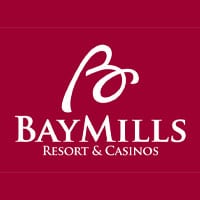 The Bay Mills Casino in Michigan, opened in 1995, is a small venue, with just 17,000 square feet of gaming space. There are 700+ slots and 12+ table games on the main floor, and the hotel is limited to just under 150 rooms.
However, the site operates the DraftKings online casino, which is available to all MI players at 21+, which is also the minimum age to gamble on the site's physical floor.

FireKeepers Casino Hotel – Battle Creek, MI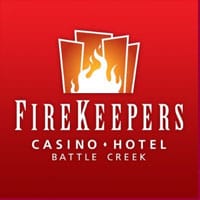 The FireKeepers Casino Michigan in Battle Creek is a popular destination, though you must be at least 21 to gamble on the venue's 107,000-square-foot casino floor. With over 2900 slots and nearly 80 table games, the FireKeepers Casino is one of the better tribal gambling properties in the state, and it's been open since 2009.
That said, the venue doesn't yet offer online iGaming, so to gamble over the Internet, you'll need to use one of the sites we recommend on this page.

Gun Lake Casino – Wayland, MI
The Gun Lake Casino Michigan is a medium-sized MI casino, with over 2000 slot machines, nearly 50 table games, a dedicated poker room, a trio of high-end restaurants, several nearby hotels, and entertainment options that run the gamut. The venue also offers the Play Gun Lake! online casino app, offered through a partnership with the Parx Casino brand.
However, the minimum age to gamble at Gun Lake – in person or online – is 21 and up, so those MI players aged 18-20 will have to go with one of the legal betting sites listed on this page. The Gun Lake Michigan casino has been open since 2011.

Turtle Creek Casino and Hotel – Williamsburg, MI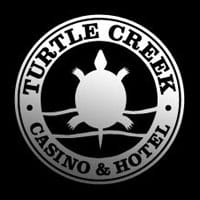 With more than two decades of operation under its belt, the 18+ Turtle Creek Casino Michigan is one of the smallest and most intimate casino hotels in the state.
The property features 56,000-square feet replete with slots and table games, along with 160 hotel rooms, several restaurants, and a sister property (the Grand Traverse Resort and Spa) offering spa treatments, golf, and more. Turtle Creek online casino games are coming soon.

Saganing Eagles Landing Casino – Standish, MI
If you're looking for a casino in Standish, Michigan, the Saganing Eagles Landing is the place to play. The venue is relatively small, with 32,000 square feet of gaming space housing some 800 electronic slot machines and various traditional table games.
The venue first opened in 2007 and was fully renovated and expanded in 2019. The property features a modest hotel tower, and access to the facility is available to players and visitors aged 18 and up. Currently, the Saganing Casino in MI has no online iGaming component.

Do Casinos In Michigan Offer Online Gambling?
Yes! MI is one of the few US states that has fully legalized all online betting, including iGaming (i.e. online casino games). However, not all Michigan gambling venues offer online components as yet, as the market is still relatively new.
Online gambling in Michigan launched at the tail end of 2020, and though the biggest and most prominent Michigan casino resorts were quick to partner with major operators and roll out their gambling apps (including 18+ online sports betting and 18+ online poker rooms), smaller tribal venues have taken their time.
As of mid-2021, only about half of all MI casinos offer online real-money casino games. And of these, about half are available to players aged 18 and up, while the remainder require players to be at least 21.
Legal 18+ Online Casinos In Michigan
If you want to gamble with a domestic online casino, Michigan is one of the most friendly states for it. There are more online casinos domestically operating in MI than in most other states with legal iGaming, and more casinos are getting onboard every day.
Of course, online casinos in MI have various limitations, including the fact that not all of them are available to those aged 18 and up. In fact, of the 10+ online casinos in the state, only two or three allow players to gamble for real money at 18-plus.
That said, you don't have to play with a state-based MI venue to risk and win actual cash legally and safely, as there are several highly regarded online gambling sites that operate outside of US borders and accept MI players at 18 and over.