Reviews Of Local Casinos In Oklahoma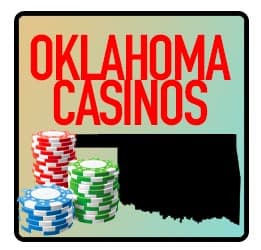 Oklahoma is home to more brick-and-mortar retail casinos than any other state in the USA, which is to be expected given its history as a refuge for many Indian tribes. With tribal gambling being so expansive in the state, of course, it can be difficult to find the best casinos in Oklahoma. Plus, if you stay on top of the Oklahoma casino news, you'll see that new venues keep cropping up. It's tough to know where to start!
Fortunately, we've got loads of experience with 18+ gambling in Oklahoma, so you don't have to do any heavy lifting. The best OK gambling venues are all listed below, and our brief reviews of local casinos in Oklahoma will have you gambling – and winning! – sooner than you might expect. Best of all, we'll show you where to legally and safely play real-money online casino games if you live in OK, giving you even more options to pony up wherever your pony takes you.
Does Oklahoma Have 18+ Casinos?
Yes! The legal gambling age in Oklahoma is between 18 and 21 years old, and this is dependent primarily on whether or not the OK casino in question serves alcohol on its gaming floor. Luckily, most Class III OK casinos are 18+, and the state's Class II venues are almost universally open to players at 18 and up. Other US states where you can legally gamble online typically have fewer options for players under 21!
That said, there's a big difference between Class III and Class II casinos, and many younger players who don't have easy access to the former may still appreciate the opportunity to play traditional slots, blackjack, roulette, craps, baccarat, and more. For them, online Oklahoma casinos operating outside of US borders are the best bet, as these are safe and legal for all 18 and up gamblers. With online casinos, you can gamble sooner in the Sooner State!
Indian Casinos In Oklahoma
Whether you're looking for casinos in Oklahoma City, casinos in Tulsa, Oklahoma, or casinos near the Oklahoma-Texas border, you're sure to find gambling opportunities wherever you are. That's because the Sooner State has more active casinos than any other state in America!
To date, there are over 140 casinos across 50 counties in OK, though estimates can range to nearly 200 such venues. There are literally so many it can be hard to keep count! All the casinos in OK are tribal operated, as the state has granted gambling exclusivity to 33 separate and distinct Indian nations.
That said, the kinds of gambling offered vary dramatically throughout the state, as there are only a comparative few casinos that are allowed to host Class III games (i.e. "Vegas-style" casino games). The bulk of OK casinos are Class II operations that host bingo, raffles, electronic gaming machines (EGMs), and video lottery terminals (VLTs). These almost all accept players at 18 and up.
Class III Casinos in OK
There are dozens of Class III casinos in OK, offering the full gamut of traditional slots, table games, and more. These venues are mostly Oklahoma casino resorts, though not all of them have lodgings on-site.
Of course, of the best casino hotels in Oklahoma, the WinStar in Thackerville stands alone, as it's the biggest casino in the world. That said, there are several excellent destination gambling venues in the state, and the list of 18-and-up casinos in Oklahoma seems to be growing by the day.
While the locations of casinos in Oklahoma – for Class III venues especially – seem to be concentrated in the southern portion of the state (offering easy access to the state's Texas neighbors), you're sure to find a casino of interest no matter where you are. The following list of OK casinos is recommended for those just getting started gambling.
WinStar World Casino – Thackerville, OK
If you're looking for a new casino in Oklahoma, you'll want to check out the WinStar World Casino in Thackerville. Operated by the Chickasaw Nation, the WinStar Casino Oklahoma installation isn't just the largest casino in Oklahoma, it's also the largest casino in the entire world! The venue boasts 370,000 square feet of gaming space and nearly 1400 luxury guest rooms, but the fun doesn't stop there.
The WinStar also features a 55-table poker room, dozens of restaurants, a live concert venue, a massive resort-style pool and waterfall, and two world-class 18-hole golf courses.
As the most popular of casinos in Oklahoma near Texas, the WinStar World is the marquee gambling destination for two states! And naturally, it's also one of the most sought-after OK Class III gambling venues open to players at just 18 and up.
---
Riverwind Casino Oklahoma – Norman, OK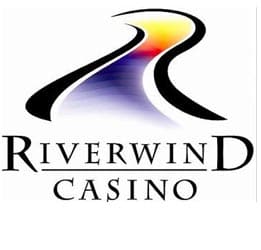 The Chickasaw's second flagship, the Riverwind Casino, is one of the largest gambling houses in the state. The venue has 216,000 square feet of gaming space with 2700+ slot machines, 20+ table games, and 17 poker tables. You can also participate on off-track betting (i.e. simulcast horse racing betting) at the casino.
The Riverwind rounds out its gaming experience with a 1500-seat concert venue and a 100-room adjoining hotel, which is connected to the main gaming area via a sky bridge. OK casino players aged 18+ are welcome on the Riverwind gaming floor.
---
Choctaw Inn – Durant, OK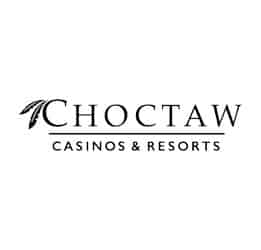 The Choctaw Inn – the flagship Choctaw Oklahoma casino – is the biggest non-Chickasaw gaming venue in the state. With a proper Class III menu of casino games, you can enjoy over 4300 slots and electronic gambling games on the site's 204,000-square-foot main floor.
There are also 26 poker tables, a pari-mutuel racebook for simulcast betting, and dozens of live table games to choose from at the Choctaw Inn, all of which are available to OK gamblers aged 18 and older.
In all, there are eight Choctaw casino Oklahoma destinations (i.e. the Hugo Oklahoma casino and the Broken Bow Oklahoma casino), but the Inn is the biggest and baddest of them all. When you want to gamble against the house, the Choctaw Inn is in the house!
---
Downstream Casino Oklahoma – Quapaw, OK
The Downstream Casino is owned and operated by the Quapaw Tribe of Oklahoma, and it's a true Class III venue with blackjack, craps, roulette, and more than 70,000 square feet of gaming space to accommodate over 2000 slot machines.
At the Downstream, there's also a dedicated poker room with 14 tables, several bars and restaurants, a 375-room hotel, a world-class spa, and a golf club for those looking for a bit of fresh air between gambling sessions.
A planned expansion will take the casino property into southeast Kansas, adding over 150 more EGMs along with a cigar lounge and night club to the property. The legal gambling age at the Downstream Casino is 18 and up.
---
Class II Casinos in OK
Most of the casinos in Oklahoma are Class II operations that offer non-house-banked VLTs (video lottery terminals) and EGMs (electronic gaming machines). Of course, these are also all tribal-run, and many Class II casinos in OK have live bingo and raffles, as well.
It's due to the sheer amount of these Class II venues – and their convenient access throughout the Sooner State – that OK is home to the most gambling destinations in the United States.
You can find Class II Oklahoma casinos from border to border at travel plazas and smoke shops at nearly every exit. The most prominent Class II casino, however, is the racino at Remington Park, Oklahoma's first world-class horse track.
Remington Park – Oklahoma City, OK
Founded in 1988, Remington Park was Oklahoma's first top-tier horse racing venue. The racecourse – rated as the third best track in North America by one prominent publication – is home to the annual Heritage Place Futurity and Oklahoma Derby races, which are two of the premier graded stakes Thoroughbred contests in the US.
The venue also hosts motorsports, features hundreds of RNG EGMs (casino-style games), and several venue sites and restaurants. The Bricktown Brewery is especially popular, with taps built into the tables serving up handcrafted beers that you won't find anywhere else. And of course, gambling and horse betting are available to players at just 18 and up.
---
Lucky Star Casino – Watonga, Oklahoma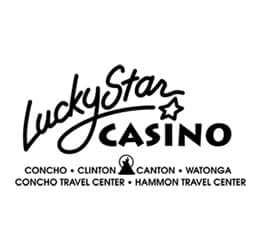 The Lucky Star Hotel & Casino Watonga is the largest of the six Arapaho gambling venues in the state. Mostly focusing on travel plaza style gaming and EGMs, these are the most comprehensive – but still locally-minded – Class II casinos in OK.
Of course, the Lucky Star Watonga is the flagship, and it recently underwent a major expansion that should bring with it a five-storey hotel tower and actual slot machines for true Class III designation. Currently, you must be at least 18 or older to play at any Oklahoma Lucky Star Casino venue.
---
Newcastle Casino Oklahoma – Newcastle, OK
The Newcastle is a sister property to the Riverwind, also operated by the Chickasaw Nation. However, despite the 112,000-square-foot gaming floor, the Newcastle only has 14 table games to go along with its 3000 EGMs. As a Class II venue, you won't find real house-banked slots at the Newcastle, but that also means that 18 and up players are welcome.
---
Oklahoma Travel Plaza Gaming Centers
Oklahoma travel plaza gambling is just what it sounds like: mini casinos set up in truck stops across the state's highways and byways. These sites offer electronic casino games in the VLT and EGM formats, but because the games aren't house-banked, you can't play traditional blackjack, roulette, etc. at these locations.
However, Oklahoma travel centers are famous for their hospitality and gaming machines, allowing you to come in from the cold, get a hot cup of coffee, a big meal, a shower, and a few rounds of video poker or video slots before heading back out again. Travel center gambling has a certain charm that no resort casino can ever match.
Oklahoma Smoke Shop Gaming Centers
Smoke shop casinos represent another unique aspect of gambling in Oklahoma. Like travel plaza casinos, these Class II venues are just what they sound like: gambling games at smoke shops! But just as tobacco has transitioned to e-cigs and vape juice, so too has the electronic gambling at OK smoke shops embraced modern RNG technology.
However, these games are limited in their payouts due to being entirely pool-based, and many smoke shops have older machines that are beginning to show their age. Still, if it's kitsch and charm you're after – and a good cigar, too! – Oklahoma smoke shop casinos are a unique American experience.
Do Casinos In Oklahoma Offer Online Gambling?
Whether you're hitting up the best casino hotels in Oklahoma's biggest gaming districts or traveling throughout the state's wide-open spaces and stopping for Class II gambling along your journey, the one thing no OK destination offers is legal online gambling. And that's not OK!
Of course, it's also not a problem, because it remains 100% legal to gamble online in Oklahoma. As long as you play with a licensed, regulated online 18+ casino operating outside of OK and US borders – and as long as you're 18 years of age or older – you can safely play real-money online casino games from anywhere in the Sooner State, with no wait!
The titles available at these sites cover every major gambling category, from real money 18+ online slots and online blackjack to 18+ online roulette, online video poker, and more. The sites are also 100% mobile friendly, designed to work seamlessly with any size or model of iPhone, iPad, or Android device.
Will Oklahoma Casinos Have Online Betting In The Future?
Right now, there is no serious legislative push to move domestic gambling online in Oklahoma. Oklahoma casinos are open and doing well, and the tribal exclusivity agreements – along with the number of tribes in the state (and the realities of their competing territories) – would be difficult to navigate when moving gambling to the Internet domestically. That said, never say never!
One aspect of online gambling we do expect to see launched sooner than later in OK is 18+ sports betting. Oklahoma sports betting has been discussed in the state legislature since the 2018 PASPA overturn, and since sports gambling is distinct from casino gambling, it's possible that the state could come to an agreement with the tribes to offer online access to the pastime.
Of course, the best online casinos for 18+ OK residents already offer sports betting (as well as 18-and-up online poker), so for players at these offshore sites, the point is moot. Still, more options are always better, and we hope to see the state bring sports wagering to its tribal gaming venues ASAP, as that would be a winning bet across the board.
Legal 18+ Online Casinos For Oklahoma Residents In 2023
An Oklahoma casino map is helpful if you're looking to play VLTs and EGMs in the Sooner State's countless brick-and-mortar venues, but if you want to play from literally anywhere in the state, online is the way to go.
When you play online, you don't have to worry about casinos closing in Oklahoma or what the operating hours are of a given venue – these sites are open 24/7 with hundreds of fair-play-certified iGaming titles and live dealer casino games. They've even got online blackjack tournaments and online slots tournaments kicking off around the clock, and several venues offer real online poker action, as well.
Signing up is fast and free, and you'll enjoy state-of-the-art security and encryption on top of a world-class betting experience. For real-money online gambling in Oklahoma, these OK sites are a far sight better than OK!