Reviews Of Local Casinos In Washington State
There are 29 total land-based Indian casinos in Washington state, and they're spread around enough to suit residents of most regions. However, brick-and-mortar casinos in the region all have certain limitations that – in some ways – make them less than compelling – even at the 10 WA casinos that open their gaming floors to players aged 18 and up.
The most pressing issue is that these local casinos in the state don't have actual slot machines. Since slots are the single biggest gambling game on the planet, that's a pretty big shortcoming. Nevertheless, if you want to enjoy the local gaming scene, you have several solid options when it comes to choosing the best casino in Washington. We review a selection of the top 18-and-up WA casinos here, and we've got a big list of all the venues available in the state.
From casinos in Seattle and casinos in Spokane to casinos in Tacoma and everywhere else in the Evergreen State, our guide to the local Washington casino scene is all you need to plan your next outing. Or, if you prefer to play online, your next inning. (And yes, some local WA Indian casinos and offshore WA-friendly casinos have sports betting, so that pun makes at least some sense…)
Does Washington Have 18+ Casinos In 2023?
Yes! Washington is one of the few states that caters to in-person gamblers at 18 and up. There are 10 Class III casinos in WA that allow players aged 18+ on their gaming floors. That said, the remaining 19 Class III Indian casinos in the state limit gaming to those aged 21 and older. This is usually the case at WA tribal casinos that serve alcohol.
Still, the convenience of being able to play real casino games at 18 in WA is severely undermined by the fact that these activities – at the state level – are limited to brick-and-mortar tribal casinos.
Washington has no interest at this time in pursuing statewide online casino gambling (and we suspect that if and when the state does legalize online casino games at the domestic level, the pastime will be limited to those aged 21 and up).
Indian Casinos In Washington State
Washington's casino gambling market is exclusive to Indian gaming, as local federally recognized tribes in WA have sole custody of all gambling rights. For gamblers aged 18 and up, this is actually a good thing, because industry convention has it that commercial casinos in most states are 21+ only.
Because tribes can set their own age limits within their own casinos, many often choose to cater to players at 18 and older. Alcohol service in such venues is still limited by federal law to those aged 21 and up, but most 18+ Washington state casinos are able to segregate their alcohol service to accommodate both age requirements.
Best Casinos In Washington For 18+ Players
If you're under 21, you have 10 casinos in WA state to choose from. The best of these are outlined below, and – while each WA casino is different – most of them have similar features and game types on offer.
Naturally, we favor Washington casino hotels, as we generally like to make a weekend – or a week! – out of it if we're going to skip the online betting scene for the whole in-person deal. As such, most of the venues we consider to be the best are those recognized as established casino resorts in the state.
Note: If you're 21 or older, you have more options at your disposal. See the full list of WA gambling venues below to find a Washington casino near you.
---
Suquamish Clearwater Casino Resort – Suquamish, WA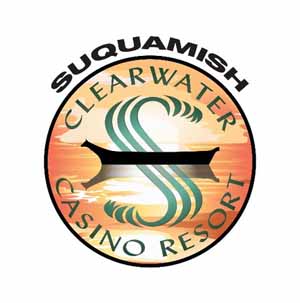 The Suquamish Clearwater Casino is owned by the Suquamish Tribe, and it's our top choice for visitors. As the only waterfront casino in Puget Sound, the views offered by the rooms at the Clearwater resort are unparalleled. The only issue with these vistas is that they might distract you from the venue's gaming and entertainment options during your stay. And that would be a shame because in addition to the Clearwater's 1200+ EGMs and live table games, the venue is one of the few WA betting facilities with a full sportsbook!
Electronic Games: 1200+
Table Games: Blackjack, Double-Deck Blackjack, Pai Gow Poker, Craps, Roulette, High Card Flush, 3-Card Poker, Keno
Hotel: 183 rooms
Dining: Agate Pass Deli, Seafood Bar, Beach Bru Coffee, Beach Glass Café, The Clearwater, Beach Rock Music and Sports
Other Amenities: FanDuel Sportsbook, 13,000-square-foot convention hall, RV park, Angeline Spa, indoor pool and jacuzzi, nightly entertainment
---
Swinomish Casino and Lodge – Anacortes, WA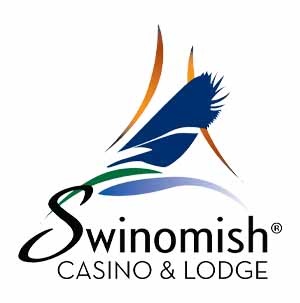 The Swinomish Casino and Lodge – operated by the Swinomish Indian Tribal Community – overlooks Padilla Bay, the Swinomish Channel, the San Juan Islands, and Mount Baker. Just imagine the kinds of vistas you'll get from your room! But naturally, you're going to be interested in the "view" on the casino floor, too. The EMGs at the Swinomish casino feature standard and progressive titles, with the latter games regularly boasting 7-figure jackpots. And when you're hungry, the dining options here are familiar and comfortable. Because win or lose, comfort food is always the best food.
Electronic Games: 800+
Table Games: Blackjack, Craps, Roulette, Pai Gow Poker, Ultimate Texas Hold-Em,
Hotel: 98 rooms
Dining: 13Moons, Swinomish Sports Bar & Grill, Carver's Café, Fatburger, Manchu Wok, Center Bar, Moka Joe
Other Amenities: 18-hole Swinomish Golf Links, fitness center, events center, gift shop, RV park, nightly entertainment 
---
Legends Casino – Toppenish, WA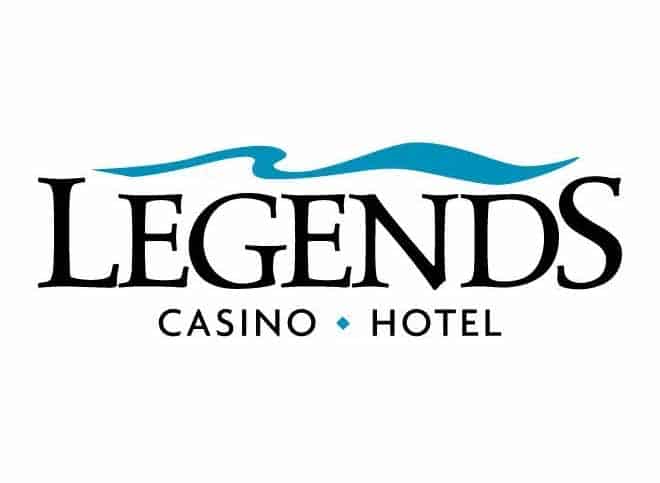 Legends is one of the bigger casinos in Washington. Owned by the Yakama Nation, this WA casino hotel features 172 well-appointed guest rooms and 18 luxury suites with mountain views, walk-in showers, big screen TVs, and more. The property has an indoor pool and hot tub, a Yakama Nation museum, several dining options including a huge buffet, and – of course – all the casino games you can handle. The live entertainment venue at Legends hosts regular concerts, comedy shows, and even live boxing matches.
Electronic Games: 1500+
Table Games: Blackjack, Craps, Roulette, Spanish 21, Pai Gow Poker
Hotel: 200 rooms
Dining: Buffet, food court, coffee bar
Other Amenities: Full poker room, live entertainment venue with concerts and sports
---
Lucky Eagle Casino – Rochester, WA
One of our favorite WA hotel casinos, the Lucky Eagle – owned and operated by the Chehalis Tribe – is unassuming but comfortable. The Lucky Eagle boasts big, bright, beachy rooms, and the entire venue has an air of openness and "freshness" to it. The indoor pool is surrounded by tall picture windows, bringing the outdoors indoors – even in the coldest weather. And obviously, the gambling is some of the best in the state, with over 1200 electronic casino games spread across a 55,000-square foot gaming floor.
Electronic Games: 1200+
Table Games: Blackjack, Roulette, Craps, Keno
Hotel: 170 rooms
Dining: Crafthouse, Cedar Café, Mainstreet Bar, Room 188 Steakhouse, Fire Kitchen Buffet, Sidewalk Deli
Other Amenities: Indoor pool and jacuzzi, casino rewards program, RV park, pet-friendly rooms, skybridge
---
12 Tribes Omak Casino Hotel – Omak, WA
The 12 Tribes Omak Casino, owned and operated by the Confederated Tribes of the Colville Reservation, is a simple and straightforward – but elegant and comfortable – Washington casino resort. The 80-room hotel features 64 standard rooms and 16 suites with spa-style bathrooms, and the facility has plenty to offer in the way of both gambling and relaxation. Everywhere throughout the property, you'll get picturesque views of Okanogan County, which are almost as beautiful as those triple 7s going across your EGM screen!
Electronic Games: 480+
Table Games: Blackjack, Spanish 21, 4-Card Poker, Ultimate Texas Hold 'Em, Roulette
Hotel: 80 rooms
Dining: Element 78, The Sweet Shop, Tin Biscuits, Camas, Loggers Pub
Other Amenities: Renew Spa, indoor pool, RV park
---
Every Brick-And-Mortar Washington Casino
For the sake of brevity, we can't really review all 29 of the state's local Indian casinos here (granted, some aren't even worth reviewing, given that many of them – despite being Class III venues – are more "bingo hall" than "casino resort").
However, just so you have literally all your options right in front of you, we've listed every venue in the state directly below, along with each facility's minimum gambling age:
| | |
| --- | --- |
| Casino Name | Minimum Gambling Age |
| Lucky Eagle Casino (Rochester, WA) | 18 |
| 12 Tribes Coulee Dam Casino (Coulee Dam, WA) | 18 |
| 12 Tribes Lake Chelan Casino (Manson, WA) | 18 |
| 12 Tribes Omak Casino Hotel (Omak, WA) | 18 |
| ilani Casino Resort (Ridgefield, WA) | 21 |
| 7 Cedars Casino (Sequim, WA) | 21 |
| Northern Quest Casino (Airway Heights, WA) | 21 |
| Kalispel Casino (Cusick, WA) | 21 |
| Silver Reef Casino (Ferndale, WA) | 21 |
| Muckleshoot Casino I & II (Auburn, WA) | 21 |
| Red Wind Casino (Olympia) | 21 |
| Northwood Casino (Lynden) | 21 |
| The Point Casino (Kingston, WA) | 21 |
| Emerald Queen Casino at i-15 (Tacoma, WA) | 21 |
| EQC at Fife (Fife, WA) | 21 |
| Quinault Beach Resort & Casino (Ocean Shores) | 18 |
| Lucky Dog Casino (Shelton, WA) | 21 |
| Snoqualmie Casino (Snoqualmie, WA) | 21 |
| Chewelah Casino (Chewelah, WA) | 18 |
| Spokane Tribe Casino (Airway Heights, WA) | 21 |
| Little Creek Casino Resort (Shelton, WA) | 21 |
| Suquamish Clearwater Casino Resort (Suquamish, WA) | 18 |
| Swinomish Casino and Lodge (Anacortes, WA) | 18 |
| Tulalip Resort Casino (Tulalip, WA) | 21 |
| Quil Ceda Creek Casino (Tulalip, WA) | 21 |
| Skagit Valley Casino (Bow, WA) | 21 |
| Legends Casino (Toppenish, WA) | 18 |
Do Local Casinos In Washington Offer Online Gambling?
Unfortunately not. Despite tribal sovereignty giving Washington Indian casinos a lot of leeway in what they can offer, they're still bound by the state's founding documents and by the federal Indian Gaming Regulatory Act (IGRA, 1988).
The IGRA law specifically says that federally recognized tribal nations in a given state – if approved via compact to offer Class III "Vegas-style" casino gambling – can only offer games that aren't implicitly or explicitly illegal in the state constitution or state code.
Most states also have laws preventing gambling expansion without congressional approval or voter referendum. In WA, online gambling would constitute a major gambling expansion, so it must be authorized by the state government or the people themselves. The same applies to slot machine legalization: In WA, slots are currently not allowed at tribal casinos – Washington slot games at tribal casinos can only be legalized via legislation or referendum.
Thus, as of 2023, WA Indian casinos are limited to offering in-person gambling. There are enough casinos in WA state – 29 and counting! – to where this won't be a huge inconvenience for most players, but these days, the lack of an online component is a risk most casinos don't want to take if they can help it.
Legal 18+ Online Casinos In Washington
If you live in WA, are under 21 years old, and don't have a nearby 18-and-up casino to scratch your gaming itch, you can still technically gamble online. Remember, this state has specific laws against online gambling, but they're historically unenforced.
To be clear, we're not recommending that you join any 18-and-over online casinos that cater to WA residents. But countless Washingtonians have been gambling with these venues for years, and we've never heard of a single individual being so much as cited or fined. Nevertheless, again, please follow all local gambling laws and proceed only at your own risk if you choose to bet offshore from inside state borders.
What Tribes Own Casinos In Washington?
The best way to access the most current information on what tribes in the state own and operate casino properties is the following website.  It lists each casino and which tribe owns each property, and is kept up to date by the state Governor's office.
Governor's Office of Indian Affairs – Washington State Tribal Casinos
Best Offshore 18+ Online Casinos For Washington Residents 2023
Disclaimer: Due to Washington gambling laws that bar all forms of online gambling at the individual level, it is recommended that you abstain from any real-money online betting. While these laws are historically unenforced and all the best 18 and up online casinos accept residents of WA, it is best to err on the side of caution and gamble only with the local WA Indian casinos listed above. We are not lawyers, and no content on this (or any) Casinos18 page should be construed to constitute actual legal advice.