Seminole Hard Rock Hollywood Casino Review
Is Seminole Hard Rock Hollywood Casino 18 and Up?
While online casinos offer some of the best options for 18+ gamblers, some areas in the United States allow domestic, in-person play for those under 21. One of these places is the vacation destination of Florida.
Each Florida casino and poker room in the state has its own rules and bylaws, although the state law says that 18 and over players have access only to poker, bingo, horse racing, lottery, and similar "Class II" style gambling amusements.
One casino that allows 18 and up players access is the Seminole Hard Rock Hollywood. The options are limited here as most gaming is reserved for the 21 and over crowd, but nevertheless, 18+ visitors can legally play poker on the property.
Use the following review to get the low-down on Seminole Hard Rock Hollywood, what 18+ players can do, what games are available, non-gambling activities, and much more.
Where is the Seminole Hard Rock Hollywood Casino?
The Seminole Hard Rock Hollywood, despite its slightly misleading city name, is not in California. The casino is actually located on the Seminole Tribe's Hollywood Reservation in South Florida and borders the cities of Hollywood and Davie in Broward County.
The exact location of the Seminole Hard Rock Hollywood is 1 Seminole Way, Hollywood, FL 33314. Once on the 500-acre reservation, the resort is not hard to find; just look for the 450-foot tall guitar overtaking the skyline.
---
Facts about the Seminole Hard Rock Hollywood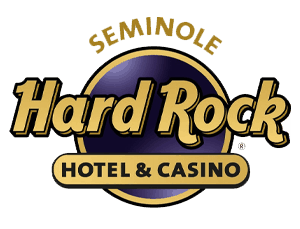 The Seminole Hard Rock Hotel & Casino Hollywood originally opened on May 11, 2004, on the Seminole Tribe's Hollywood Reservation in South Florida. Owned by the Seminole Tribe, the resort has a huge selection of gaming opportunities and their very own AAA Four Diamond-rated hotel on-site.
The Seminole Hard Rock has gone under some recent renovations to offer even more to guests. The $1.5 billion expansion has now increased the resort's offerings to the following:
Slots: 3,100
Table Games: 193
Poker Tables: 45
Sports Betting: Hard Rock Sportsbook (in-person, mobile)
Hotel Rooms: 1,271
(Four Diamond rated hotel)
Restaurants: 19
Bars: 20
Established: 2004
Type:  Tribal – Seminole Tribe of Florida
Address: 1 Seminole Way,
Hollywood, FL 33314
Phone:  866.502.7529
Website: Seminole Hard Rock
Popular games at Seminole Hard Rock:
Progressive slots
Blackjack
Roulette
Craps
Mini-Baccarat
Pai Gow
Let It Ride
Texas Hold'em
Omaha

Minimum Gambling Age at Seminole Hard Rock Casino:
18 and up for Class II Poker and Bingo
21 and up for all Casino and Sports
---
Can I gamble at the Seminole Hard Rock Casino at 18 years old?
According to the Seminole Hard Rock's privacy policy, no one under 21 may gamble on the property or loiter in the casino areas. However, their age policy also states that 18 and over players may participate in Class II poker and bingo.
The Seminole Hard Rock does not have bingo on-site, although interested players can visit the nearby Seminole Classic Casino for such games. As for poker, Hard Rock Hollywood has many options available for 18+ players. The Seminole Hard Rock boasts on its website that they are the premier option for Texas Hold'em, Omaha, and 7-Card Stud– all of which are available to 18 and up poker players.
What games are available for 18+ players at the Seminole Hard Rock Casino?
For 18 and over players at the Seminole Hard Rock Hollywood, poker is the only option available. However, this does not mean that participants are limited to just a couple of games. With 45 poker tables on the floor, games at the Seminole Hard Rocks can range from traditional to peculiar.
Some of the Hard Rock Hollywood's poker games include:
Texas Hold'em
Omaha
Omaha Hi-Lo
7-Card Stud
Crazy Pineapple
Greek Hold'em
Razz
2-7 Triple Draw
Lowball
Does the Seminole Hard Rock Casino in Hollywood allow 18+ sports betting?
No. That said, the state's new 2021 gambling compact with the Seminole Tribe now allows for the Seminole to operate both on-site sportsbooks and a state-wide domestic sports betting app.
The minimum age to participate is 21-plus, and the Hard Rock Sportsbook is scheduled to launch sometime before the start of the 2021 NFL Playoffs.
Does the Hollywood Hard Rock Casino offer online or mobile play options?
The Seminole Hard Rock Hollywood offers a few mobile apps that can be played on mobile devices. The first two, Hard Rock Pop & Crush and Hard Rock Bubble Shooter, are typical mobile games that do not have gambling aspects apart from the names.
The Hard Rock Social Casino, the third app available, can be played at any age as long as the users signup with their email address. Given fake coins on their account, players can spin a video slot machine in hopes of earning rewards for the Seminole Wild Cards. The Wild Card, however, is reserved for 21 and over players.
What are my options if the 18+ casino doesn't offer the games in 2023?
Due to Florida's gambling laws for 18-year-old players, traditional casinos can leave a lot to be desired. However, online casinos are not prohibited in Florida or on the federal level. With that being said, 18 and over players have access to a plethora of games through these licensed offshore casinos.
What poker events and tournaments does the Hollywood Seminole Hard Rock Casino host?
Seminole Hard Rock Hollywood constantly hosts some form of poker event throughout the calendar year. With their online poker calendar, players can see when poker tournaments will be, the buy-in amounts, the type of game played, and the blinds structure for the entire event.
These tournaments can range from single-day events to WPT series lasting multiple weeks.
For example, the Seminole Hard Rock Hollywood will host a Big Stack Double Green Chip Bounty daily tournament for Texas Hold'em players. By looking at their website, anyone can see that buy-in is $150 and the blinds will start at $100-$100 on level one before reaching $15,000-$25,000 on level 23.
Are there promotions or bonuses for 18 years olds?
While the Seminole Hard Rock Hollywood does offer multiple bonuses and promotions, such as the Seminole Wild Card, U-Spin bonuses, and jackpot drawings, these are all reserved for 21+ guests.
If 18 and up bettors are interested in earning casino bonuses, the best option is to play at one of the recommended online casinos featured on this site.
Are there things to do at the Hard Rock Casino besides gamble?
The Seminole Hard Rock Hollywood prides itself on being the ultimate entrainment destination. Aside from gambling, patrons have access to restaurants, bars, and shows to stay busy.
Some non-gambling related activities or places to visit include:
Fine dining restaurants such as Kuro, Council Oak, and Abiaka
Casual dining restaurants like Rise, Hard Rock Cafe, and the Food Court.
Bars and clubs like Daer, Oculus, and Entice.
Live venues such as The Comedy Club and Hard Rock Live.
If nothing else, taking a load off in one of the luxury hotel rooms can be the next best thing after a day of gambling.
What kind of entertainment is available outside of gaming?
Like we mentioned above, the Seminole Hard Rock Hollywood has two live venue options: one for music and the other for comedy. Big names are a regular at the Seminole Hard Rock, including Billy Joel, Frankie Valli, Trevor Noah, and Steve Martin, among many others.
If live shows aren't what an 18+ patron is looking for, restaurants and lounges can be found across the entire Seminole Hard Rock Hollywood property.
Is there a hotel at the Hard Rock Casino Hollywood?
The Seminole Hard Rock Hollywood is very proud of its hotel offerings– for good reason. The property is am AAA Four Diamond-rated, Green Lodging Certified hotel with over 1,000 luxury rooms.
Hotel options include the 450-foot tall Guitar Hotel with 638 rooms, the Oasis Tower with 168 rooms, and the Hard Rock Hotel featuring 469 music-themed suites.
Are there other casinos for 18+ players in the area?
Being in the Miami metro, the Seminole Hard Rock Hollywood is located near many other card rooms and casinos. Some of the best options in the area also allow play for 18 and over patrons, whether it is poker, horse betting, or bingo.
A few of the nearby rooms include:
Who is the Seminole Tribe?
The Seminole Tribe of Florida, along with the Seminole Nation of Oklahoma and Miccosukee Tribe of Indians of Florida, is one of three federally recognized Seminole entities.
After earning the federal status in 1957, the Seminole Tribe now has six reservations in Florida. By 1975, the Tribe established a variety of smoke shops and bingo operations that have evolved into high-stakes casino resorts. According to the Seminole Casinos website, over 90% of the Tribe's budget not derived from gaming revenue.