Seminole Hard Rock Casino Tampa Review For 18+ Players
Does The Seminole Hard Rock Tampa Allow Players 18 and Up?
Many tribal casinos are friendly to players aged 18 and up, but the Tampa Hard Rock offers no gaming accommodations for anyone under 21 years old. While underage customers are allowed on the premises and have access to all the venue's restaurants, arcades, shops, spas, and hotel features (among other amenities), the gaming floor is off-limits.
It's true that some casinos – even in Florida – allow 18+ players to enjoy bingo and poker, but the Hard Rock in Tampa adheres to a hard and fast standard of limiting all real-money gambling action to players who are at least 21. Of course, this doesn't mean that those under 21 can't have a great time at the resort destination, and we've got all the information you need to enjoy your stay, whether you're old enough to gamble or not.
Where is the Seminole Hardrock Tampa Casino?
The Seminole Hard Rock Tampa, as its name implies, is in Tampa, FL. Specifically, the venue is located at 5223 Orient Road, Tampa, FL, 33610. Because the Tampa Bay Hard Rock is a tribal casino (Class III), it is situated on the Seminole Tribe of Florida's Tampa Reservation off Interstate 4.
Interestingly, the Tampa Reservation is one of the smallest Seminole reservations in the state, encompassing a mere nine acres of land. Naturally, the casino takes up the majority of the property, and it's the sole serious tourist attraction within the reservation's borders.
---
Facts about the Seminole Hard Rock Tampa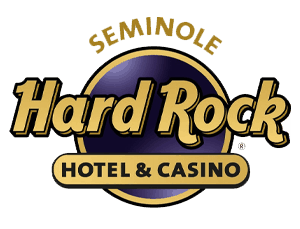 The Seminole Hard Rock Tampa opened back in 2004, and it's one of the Seminole Tribe's flagship Florida casinos. Though the Hard Rock's focus is on world class gambling amusements, the destination is fun for folks of all ages.With a AAA Four-Diamond rating and 12 story hotel tower, the venue is the perfect getaway for gamers and non-gamers alike. Hundreds of thousands of guests flock to the resort's warm climes, great games, fun shows, and gourmet restaurants each and every year.
Slots: ~5000
Table Games: 170+
Poker Tables: 46 (smoke-free)
Sports Betting: Hard Rock Sportsbook (on-site, online)
Hotel Rooms: 800+ (AAA Four-Diamond rated)
Restaurants: Council Oaks Steaks & Seafood, The Rez Grill, Cipresso, Hard Rock Café, Fresh Harvest Buffet, Rock 'N Raw, Rise Kitchen & Deli, Pool Bar & Grill, Jubao Palace Noodle Bar, Constant Grind, Poker Snack Bar, Sugar Factory
Bars: Pool Bar & Grill, L Bar, Council Oak Lounge, Center Bar
Established: 2004
Type: Tribal – Seminole Tribe of Florida
Address: 5223 Orient Road, Tampa, FL 33610
Phone:  1-866-388-4263
Website: Seminole Hard Rock
Popular games at Seminole Hard Rock:
Blackjack
Roulette
Baccarat
Craps
Pai Gow Poker
Let It Ride
Casino War
Texas Hold 'Em
Omaha Hi-Lo
Seven-Card Stud
Minimum Gambling Age at Seminole Hard Rock Casino:
21+ for all real-money casino games, sports betting, and poker.
---
Can I play at the Seminole Hard Rock Tampa Casino at 18 years old?
While you can patronize most of the Seminole Hard Rock property at 18 (and even younger), you cannot play casino games, poker, or bet sports unless you're at least 21. This is a hard rule with no exceptions. Fortunately, there are tons of non-gambling amusements – including arcades, concerts, comedy shows, and restaurants – that are available to children and adults of all ages.
What games are available for 18+ players at the Tampa Hard Rock Casino?
At this time, there are no games for 18+ players at the Tampa Hard Rock. At least, there aren't any gambling opportunities. Guests who are 18+ can still patronize the venue's video game arcades, of course, and there is a host of other entertainment options for younger players, as well.
That said, if you're over 18 but under 21, you do have legal gambling options in Florida if you decide to use an offshore casino site like those listed here. These sites offer the same types of casino games that the Hard Rock has on its gaming floor, with the added convenience of being accessible from anywhere in the country.
Does the Seminole Hard Rock Casino in Tampa Allow 18+ sports betting?
No. However, with the new 2021 online gambling compact the Seminole Tribe signed with the state of Florida, bettors aged 21 and up are able to gamble on sports at the Hard Rock Sportsbook both at the Tampa location and online via the brand's mobile sports betting app. Online sports betting in Florida is slated to launch in late 2021 before the start of the 2021 NFL playoffs.
That said, for players aged 18 and up, legal sports betting is actually available in FL as long as you use a legitimate international gambling site operating outside of FL and US borders. In fact, even for those residents aged 21+ that sign up with the Hard Rock Sportsbook, we recommend joining these offshore sportsbooks in addition, as this will enable sports bettors to shop lines for the best possible payouts on all FL, USA, and international sporting events.
Does The Seminole Hard Rock Tampa Offer Online Mobile Gambling?
No. Florida does not authorize casinos to offer their gambling attractions over the Internet, and the state doesn't appear to have any plans to change this particular law despite the new compact authorization for 21-and-up FL online sports betting.
If you want to participate in on-the-go casino gambling for real money, you'll have to sign up at a reputable offshore casino. All the top online brands accept 18+ players, too, so you can get plenty of experience with all the most popular game types before you ever step onto a real brick-and-mortar casino gaming floor.  
Where can I play mobile casino games at 18 years old in 2023?
In Florida, there is currently no state-based domestic option for online iGaming at any age. For that reason, if you're under 21 or over 21, your best bet is to use a reputable, trustworthy online casino. The following offshore brands all accept Florida residents who are at least 18 years old.
What kinds of poker tournaments does the Hard Rock Tampa host?
There are always tons of poker tournaments going on at the Tampa Hard Rock. The venue's poker room features nearly 50 dedicated tables of various kinds, with Texas Hold 'Em and Omaha Hi-Lo being the most prominent games played.
You can enjoy daily and weekly tournaments at the Hard Rock, with no-limit and pot-limit options for players of all skill levels. If you like to play cards, you won't find a bigger, more diverse poker room in the Tampa area.
Are there promos or bonuses for 18+ players?
Because you can't play at the Tampa Hard Rock unless you're 21 or older, you can't get casino bonuses until you meet that age requirement. For those who are 21+, the Hard Rock offers a number of rotating perks.
First and foremost, you'll want to become a Seminole Wild Card member, which is a rewards program good at all Hard Rock venues in the state. Enrollment comes with a $5000 Spin to Win offer.
Gamblers can also get free entries to the $300,000 High Limit Slot Spin Giveaway, and certain days of the week will earn you double rewards on your account. Other periodic bonuses include things like gift set giveaways, car giveaways, jackpot spins, sweepstakes, and more.
What else can I do at the Hard Rock Casino in Tampa?
There is plenty to do at the Seminole Hard Rock Tampa outside of gambling. While the venue is a gambler's paradise, it's also a great place to go for fine dining, entertaining shows, and upscale shopping. Some of the most popular non-gaming attractions at the Tampa Hard Rock include:
Hard Rock Event Center
Social Hour at The Rez Grill
Social Hour at the Council Oak Lounge
Hard Rock Café
Rock Spa & Salon
Pool & Cabanas
The Sound of Your Stay Audio Experience
Rock Om Yoga Studio
Retail Shopping
What entertainment other than gambling does the Hard Rock offer?
The Hard Rock, as its name implies, has deep rock and roll roots, and one of the main non-gambling draws at the venue is its concert calendar. You can also enjoy video game arcades, sports bars with tailgate specials, and the on-site Hard Rock memorabilia museum.
Is there a hotel at the Hard Rock Casino Tampa?
Yes, there is, and it's a doozy! The hotel at the Hard Rock Tampa is 12 stories tall, featuring two separate towers and over 800 rooms and suites. The lodgings are AAA Four-Diamond rated, which is one of the most prestigious badges of honor any hotel can receive.
The theme of the hotel favors modern, contemporary styles with plush bedding, free Wi-Fi, complimentary bathrobes, and more. Even if you never left the comfort of your hotel room at the Hard Rock, the relaxing trip would be well worth it.
Are there other 18+ casinos in the Tampa area?
You will not find any other casinos in the Tampa area, though there are local opportunities for 18+ gambling. These are limited to bingo rooms, lotteries, and other more common experiences, though you may find the occasional 18+ card room in town, too. However, if you're under 21 and want real-money gambling in and around the Tampa area, your only real option is to use an offshore betting site.
Who is the Seminole tribe?
The Seminole Tribe of Florida is a federally recognized sovereign Indian nation (recognized 1957), and they are famously the only tribe in US history to never sign a peace treaty with any state or federal government. The name "Seminole" is often said to translate to "unconquered" in English.
This independence and ethos have served the tribe well over the years, and they now own the entire Hard Rock brand with properties not just on their six Florida reservations but throughout America and in several countries around the world.
Until 2018, the Seminole had a profit-sharing compact with the state of FL that saw them contribute nearly $400 million to the government's coffers annually. This agreement was legally suspended at the tribe's assertion due to a breach by the state, and the renewal of that compact – and the negotiations surrounding it – are what finally led to legal domestic sports betting in Florida.